It's no secret that people are key to the growth and success of any organization. Building a team of diverse talent that lends various perspectives, ideas, skill sets, and backgrounds is vital, but it's also one of the most challenging aspects of any business. 
Candidates today evaluate potential job openings and companies in a similar way to how consumers evaluate products. They do their research, read reviews, and evaluate fit, and weigh the potential return. Because of this, it's more important than ever to have clear and deliberate employer messaging and outreach strategies that speak directly to your ideal candidate. This is where Recruitment Marketing comes into play.
What is a Recruitment Marketing Strategy?
As the number of businesses is constantly growing, top talents now have more job opportunities to choose from. For recruiters, this means that finding and hiring qualified candidates is now more difficult than ever. In today's candidate-driven job market, it's not recruiters that choose candidates anymore. It's the candidates who get to pick. And, to gain their trust and inspire them to choose you over your competitors, you need to ensure that your marketing and recruitment efforts work together.
Sourcing, nurturing, and hiring the right people to join your organization is a pretty complex process—one that requires a team-wide effort if you hope to attract top talent. Oddly enough, this process isn't too dissimilar from the work marketers do to attract customers to your business. The question, of course, is how? This is where Recruitment Marketing comes in.
Not to be confused with recruiting, recruitment marketing is about bringing the talent to you rather than looking for individual prospective employees. Recruitment marketing includes promoting your organization and your culture in addition to specific job openings, with the use of marketing methodologies throughout the recruitment life cycle to attract, engage and nurture relationships with qualified talent.
Why You Need a Good Recruitment Marketing Strategy
Recruitment marketing strategies are deployed at the earlier stages of the talent acquisition process. In particular, recruitment marketing handles:
Awareness: when candidates are first made aware of your company or job opening.
Consideration: when candidates research your company and read your employer branding content to establish interest and fit.
Interest: when candidates have conducted enough research to establish their interest in applying for a position or reaching out to the company.
As mentioned earlier, candidates today find and evaluate potential employers in the same way that consumers find and evaluate products. Candidates are more information savvy than ever, and use social media, review sites like Glassdoor, conduct online searches, and closely review your career site to get the information they need to make an informed decision.
Owning the messaging and conversations that are being said and heard about you online is critical. Taking a proactive approach to recruitment marketing is the most effective way to steer the conversation and ensure that you own your communication strategy. Recruitment marketing is also great for outreach, and for driving increased inbound applications. Marketing strategies are typically designed to increase traffic and lead, emphasizing quality and down funnel conversion. Applied to recruitment, these tactics help you generate more applicants, at a higher quality, and who are more likely to be successful new hires.
Here are the following benefits that can be achieved from a well-structured recruitment marketing plan:
More applications. Recruitment marketing helps you drive more candidates to open positions by ramping up awareness, traffic, and conversions.
Better candidate engagement. Targeted content and deliberate outreach strategies give candidates greater exposure to your employer branding, making them more aware (and hopefully interested in) your company and openings.
Complete candidate experience. Provides a complete end-to-end candidate experience that educates and informs about the company, and provides consistent messaging in all interactions with the candidate.
A competitive advantage. Well-executed recruitment marketing constantly puts your messaging in front of candidates first. They read about your company and interact with your content before your competitors. This puts you top of mind, lets you own the story, and makes you a well-known employer in targeted talent pools.
12 Effective and Tactical Recruitment Marketing Strategies 
Recruitment marketing can take many forms, from building up your online presence so you're getting found in search results when candidates begin their job hunt to application generation to reach the right candidates when they're ready to apply for jobs.
It involves both communication and inbound marketing strategies. It's the process of building and communicating your organization's employer brand and value proposition, and presenting that in such a way that attracts targeted talent.
Recruitment marketing is only effective if you use the right tactics and execute them in the right way. A recruitment marketing strategy is a far more proactive approach to hiring, making your company's culture visible and attractive to top talent. It's a pull rather than push strategy.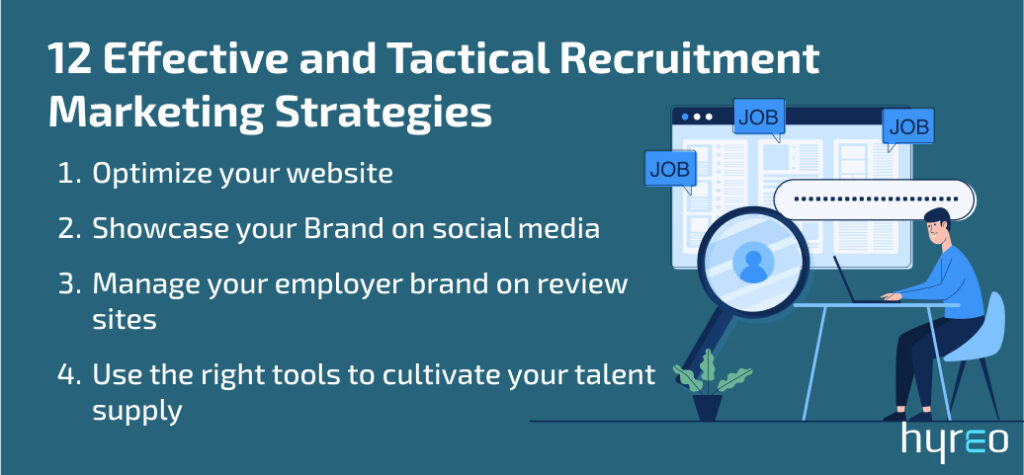 Good recruitment marketing strategies encompass many online marketing tactics so you're reaching the widest pool of qualified applicants where they're spending time online. Now, since the basics are covered, let's look into 12 recruitment marketing strategies to help you find the right employees for your organization.
1. Optimize your website
60% of Recruiters are investing in their company career website. Your website is essentially your organization's first impression for most job searchers. They should be able to clearly identify what you do, your mission, who you serve, and then easily navigate to more information about careers and your culture. It's where you communicate your benefits, what current employees love about your culture, and promote open positions. In order for your website to show up in search results at all and to display correctly across all devices, you also need a robust search engine optimization, or SEO, strategy built around your brand keywords.
2. Showcase your Brand on social media
Social media is a great place for candidates to learn about your organization and your culture. Because social media is meant to be a platform for sharing culture related content whether it's an in-office event, an employee feature, or an example of how your organization is giving back.
And, social media recruiting is effective at attracting employees. In fact, leads developed through employee social media activities convert seven times more frequently than other leads. So, you can't miss this opportunity to engage with prospective employees while also creating a positive experience online for your current employees.
3. Reach new audience with Facebook advertising
Another benefit of using social media sites like Facebook and Instagram for your recruitment marketing is that with Facebook ads you can target a new audience who may not know your organization. Facebook advertising allows you to run ads on both Facebook and Instagram and target users based on a number of factors, including their current job titles, education level, interests, and location. 
4. Manage your employer brand on review sites
Your organization's brand reputation is extremely important. Job searchers want to get an idea of how your current employees enjoy working for your company, and reviews give them a way to do just that. So, it's essential that you're managing your employer brand and respond to any comments that come your way. 
Prospective employees see review responses as almost as important as the review itself. In fact, 75% of job seekers are likely to apply for a job if the employer actively manages their employer brand. 
5. Promote your organization on job boards
While many job boards allow you to post jobs for free, you can increase your chances of getting seen by the right applicants by promoting your openings on those job boards.
When you promote your open positions and organization through job board advertising, you can show up ahead of other listings on these sites, increasing the chance that candidates will click to your posting instead of a competitor's.
6. Engage with prospective employees via live chat
Live chat is a huge asset for the consumer-facing side of your website but can also be a big benefit for your recruitment marketing strategy.
When you add live chat to your career site or page, you're able to engage with prospective employees 24/7. Applicants might have questions about the best way to get in contact with you, how to find relevant job openings, or even where your office is located. 
Use of Hyreo's chatbot system has repeatedly increased candidate engagement and lower candidate drop-off rates for its customers.
7. Employ email marketing
Once candidate's information is collected, you can keep your organization top of mind through email marketing. Consider sending emails to your list regarding events, spotlights on how your teams are coming together, or a client your organization has seen success with, along with open positions. 
Hyreo also provide email automation tools to stay connected with candidates throughout the hiring process.
8. Use video  marketing to engage with passive candidates
More than 80% of people say they want to see more video content from brands they engage with, and people retain 95% of the message they watch in a video. So, give the people what they want and get your message across with video marketing. Videos also give a way to connect with prospective employees on a deeper level than any other content you create. 
9. Take it a step further with YouTube advertising
YouTube advertising gets videos to prospective employees directly on YouTube, the world's second largest search engine. The cost of YouTube advertising is fairly low and can help you build awareness for your organization, reach a new audience online, and drive prospective employees to engage with your videos or your career site. 
10. Make it easy to contact you with listings management
When candidates are searching for your organization, they'll likely encounter local listings like your Google Business Profile, Yelp, and CitySearch. While business listings are typically geared toward consumers, prospective employees may use this information to get in contact with you and visit your website. It's important to make sure your business is listed accurately so candidates are seeing the right information when it comes time to contact you. 
11. Use the right tools to cultivate your talent supply
Candidates find career opportunities in traditional online and mobile venues, and those with in-demand skills can afford to be extremely selective about which opportunities they pursue. Make it easy for candidates to find you on their preferred channels, such as social media outlets and make communication and applications easy to execute.
AI-enhanced tools can also make it faster and easier for you to find talent and for the candidate to have a great experience from the introduction to your company and going forward. Also, algorithmic match models apply AI to connect potential candidates to opportunities by recognizing skills and competencies that truly apply to the open role. This also helps to automate manual and administrative tasks in the process, enabling recruiters to focus on building relationships and driving a positive candidate experience.
12. Measure to evaluate Brand awareness
In order to manage something well, you have to have reliable metrics to show the reality of the current status of your efforts. Companies that enact purposeful recruitment marketing strategies and measure their results will be those that win the battle for top talent and retain them as champions and advocates for their brands.
Summary
Gone are the days when you could rely on a recruitment ad alone to create qualified inbound applicants. Candidates today are savvy. They're inundated with information and opportunities from across the Internet at all times. It's your job as a recruitment marketer to break through that noise and deliver a message and experience that will make your organization hard to resist for job seekers. Thus, Recruitment marketing is now becoming a must-have for hiring teams that want to gain a competitive advantage. 
FAQs on Recruitment Marketing
What is recruitment marketing strategy?
A recruitment marketing strategy is a far more proactive approach to hiring. "[A] recruitment marketing strategy is the approach you take to making your company's culture visible and attractive to top talent.
What is the purpose of recruitment marketing?
The primary recruitment objective of any company is to hire the most qualified candidates, but most have other goals to meet in their hiring processes, as well. In recent years, recruitment has shifted to consider candidates' needs and preferences more heavily, and objectives have changed to reflect this.
What should a recruitment strategy include?
1. Your recruitment goals
2. Headcount planning
3. Ideal candidate profile
4. Your employee value proposition
5. Your recruitment marketing strategy
6. Your selection processes
7. Your onboarding processes
8. Tools and technology
What is online recruitment marketing?
Recruitment marketing is the combination of strategies and tools used by an organization to engage and entice job candidates in the pre-applicant phase of recruiting. It aims to promote the value of working for the organization and establish a corporate culture or brand to attract candidates.
What are the types of recruitment?
1. Inbound.
2. Outbound.
3. Internal