As soon as the talent acquisition team informs the candidate about the status of his/her interview and tells them, "'you've got the job!", it is the start of a very crucial process in recruitment – Employee Onboarding.
Recruiters invest a lot in building their brand image while sourcing to attract the right talent into the company. But even after selecting a candidate for a certain job role, the organization's branding continues.
Most successful organizations have a robust and efficient onboarding process that helps the employee to understand and fit into the organization better.
Although most of the onboarding process involves documentation and related administrative work, it has a tremendous implicit impact on the employee's induction into the organization.
There are two main aspects to employee onboarding:
Familiarizing the employee with the organizational policies and culture
Equipping the employee with the necessary resources, knowledge, and skills  
Let us look at some common tasks in the onboarding workflow:
Appointment confirmation – A candidate usually applies to multiple companies and often is juggling between available options. A candidate often returns to the recruiter to negotiate some aspects like compensation, benefits, or even designation. The real onboarding process begins when a candidate accepts the offer and is given an official appointment letter.
Information about Day 1 – The employee is educated about how to report to work on their first day, which includes information like timings, point of contact, dress code, and documents to carry if any.
Documentation – The employee is asked to submit necessary documents for verification and maintain the employee record. They also have to fill out forms to enable payroll onboarding and IT systems. 
Creation of credentials – The first step to inducting the employee into the organization is to create unique credentials for the employee. Getting the employee ID, email, workstations, and work phones help the employee to feel a part of the organization. 
Introducing company policies – Whether the employee is fresh out of college or an experienced employee, they have to adapt to the new company's culture, processes and policies. Onboarding is the best time to introduce the employee to the company's ways of working. 
Introducing the work culture – Many aspects of the organization's work culture will become clearer to the employees by sharing information and/or personal experience. If the organization has a different approach to policies or is liberal, employees can be informed about them. Open-door policy, 'fun-at-work', CSR initiatives, etc are some examples.  
Basic training – Many organizations include training on basic technical and soft skills as a part of their onboarding. This is especially beneficial for those employees who are new to the corporate world. Employees are often assessed for their understanding of the information they have been trained on.
Setting expectations – Onboarding is also a good time to reinforce expectations about the job role. Any questions that an employee may have can also be clarified during this stage.
Though many of these aspects need a personal touch, a lot of organizations employ onboarding software to make the paperwork easier. Some companies with onboarding software send a link to the new hires before day 1 to save time and make it easier for employees.
For remote onboarding of employees, the foundation of the working relationship will depend on the nature, frequency, and consistency of communication.
The onboarding process just doesn't stop at this. Successful organizations have regular check-in meetings with employees for 6 months to a year to ensure the employees fit into the company.
Why is employee onboarding crucial?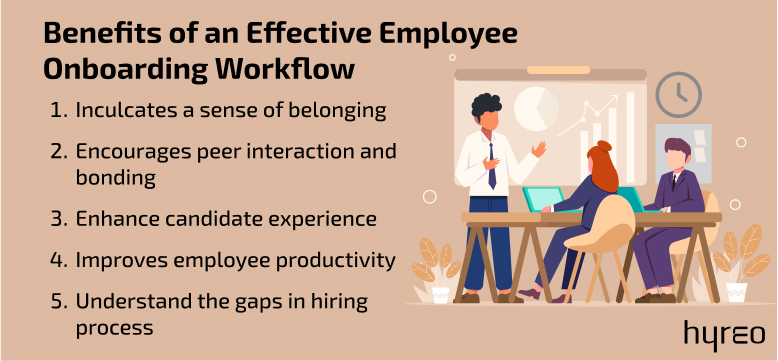 An effective employee onboarding workflow has the following benefits:
Inculcates a sense of belonging
It helps the employee 'belong' to the company. A study by Deloitte stated that 93% of respondents indicated that a sense of belonging drives organizational performance.
Many companies include sharing their history and evolution of the business, during onboarding.  Sharing the company's story personalizes the brand and helps employees to connect better. 
Maintains a good organizational culture
Employees are made aware of the company's values, implicitly communicating what they can expect from the organization or even what is expected from them. A survey indicated that 32% of organizations communicated their core values to candidates which have led to higher turnover during the first 3 months.
However, just talking about the values is not enough. Employees experience "Moments of Truth" while interacting with various stakeholders during onboarding and positive experiences lead to higher employee retention.
Encourages peer interaction and bonding
New hires get an opportunity to mingle with other new joiners and feel more 'included' in the journey. These connections lead to higher adaptation within the company.
Improves employee productivity
Studies indicate higher new hire productivity with an efficient onboarding experience, with 90% of employees deciding to stay with the company within the first 6 months of joining. 
Enhance candidate experience
It allows the organization to create a positive candidate experience. How the employee is treated even beyond the first phase of onboarding (beyond 3 months) will ensure employee retention.
Understand the gaps in hiring process
It helps in identifying gaps in hiring – about skill as well as attitude. This is more feasible to track gaps if there is a higher engagement with the new hires. Extending the onboarding process beyond the usual 90 days can act as a great feedback mechanism for recruiters and hiring managers.
11 best employee onboarding practices
An effective onboarding process has many simple yet impactful steps taken by recruiters and hiring managers:
Before onboarding
Be 'ready' to onboard new employees
Being organized with a checklist and keeping all the necessary resources ready not only makes it easier for recruiters but also creates a smooth experience for the new hires. Some companies give out a handbook outlining the events of day one and the subsequent onboarding process. Informing the internal stakeholders about the onboarding of new hires is also a part of this step. Some of the common steps are the creation of an employee ID, email id creation, and setting up workstations (computers or laptops) and work phones.  
On Day 1 
Personalize and engage
Many organizations have personalized welcome messages (sometimes written by their reporting manager) for their new employees. Organizations that have a separate budget for onboarding offer a welcome kit that may contain branded merchandise with the company's name. Companies that are prepared for onboarding clear a workspace for new hires.
Facilitate social interaction
When new employees interact with each other, it helps to create familiarity and comfort with the newness of the organization. This may be a challenge while onboarding remote employees. However, this can be offset by consistent engagement with employees working remotely.
Introduce the working team
Many companies give their new hires a tour of the company premises and introduce them to some important (relevant) team members. Some companies also invite tenured employees to share their experience with the organization and new hires can ask questions about their careers and development. 
Communicate code of conduct
Every organization has its own set of policies and code of conduct. It is necessary to communicate them to the new employees clearly, especially reinforcing the high-impact ones. Some common policies are regarding dress code, language, leave, etc. 
Gather documents 
Relevant documents are collected from the employees for background verification as well as for employee records. Paperwork can be completed personally or online. Regardless, it is a significant aspect of onboarding an employee into the organization.
During week 1
Setting clear expectations
After the rapport building on day 1, the following week can be used to set expectations about performance, conduct, feedback, etc. This can happen in a formal, structured session or an informal conversation. A conversation like this can be a good opportunity for the employee as well to ask questions and clarify doubts.
Provide basic training
A survey by BambooHR stated that 3/4th of new employees said that the training they received in the first week of the job was most crucial to them.

Many organizations include training on basic skills (technical, individual, and interpersonal) as a part of onboarding. This is very useful for fresh graduates or those who have changed their careers. Some basic skills and values that new employees are trained on are communication, professionalism, teamwork, assertiveness, etc. 

Experienced employees may undergo a refresher session, depending on the urgency to fill the vacancy.  Many companies also conduct an assessment after the training. In case employees do not clear the assessment, they are re-trained or coached. In cases where the employee still doesn't clear the test, organizations can decide to part ways on the premise of non-performance.

However, this is not a prudent approach since there is waste of time, finances, and effort invested in a non-performing employee. It is better to strengthen your screening and selection processes to prevent losses.  
Assign a buddy
Many employees assign a work buddy whom the new employee can approach for support and assistance. A 2020 study showed that 56% of new employees want a buddy to help them out and it helps them in being productive. Microsoft's buddy program has shown that this percentage increases based on the frequency of the meetings.

Usually, the buddy is tagged for the first week of the job, many companies extend the association for as long as 6 months. Being tagged to a buddy gives the new employee easy access to clarify doubts and feel supported.  Of course, which person is assigned as a buddy to a new employee is dependent on the manager's understanding of both employees. 
3 to 6 months/1 year
Mentor or coach
Even though usually the onboarding process lasts for about 3 months, managers who mentor or coach employees can ensure higher employee productivity, engagement, and retention. Some new hires may need more investment than others depending on their learning curve or confidence levels.
Offer support and feedback
Throughout the tenure of onboarding, the manager can offer support and feedback (appreciation as well as constructive feedback). The manager needs to acknowledge and appreciate improvements and achievements openly since it will add to the employee's morale. At the same time, a manager must share feedback constructively for the employee to improve their performance.
Wrap Up
Employee onboarding is a phase that has a great impact on employee productivity, retention, and belief in the brand. Every interaction is a moment of truth for the employee, which makes or breaks their relationship with the organization.
All of these practices help an organization reduce employee turnover and build a healthy work culture. In today's competitive corporate space, how employees are treated and whether they feel some kind of belonging to an organization is the new differentiator for employees. 
When you put so much effort into bringing an employee into the organization, you may as well take a couple of steps more to ensure they stay!
FAQs on Employee Onboarding 
How long does employee onboarding last?
Employee onboarding usually lasts for 90 days (i.e., 3 months). Most organizations extend this to 6 months. Few organizations consider onboarding for a year from the employee's joining. 
Is training a part of employee onboarding?
Training is a part of employee onboarding. This could include training on the product, processes, basic technical training, and soft skills.  
What information must an employee know, for sure, before Day 1 of onboarding?
The employee must have the following information before Day 1:
· What day and time should they report
· Who to contact after they reach work
· Whom should they call in case they are running late or have a challenge in reporting to work
· What is the dress code
· What documents should they carry
· What will be the agenda for the day
 
What questions can an employee ask during onboarding?
Employees can ask or clarify any doubt regarding their career in the organization. Some common questions are regarding:
· Compensation and benefits
· Company Policies
· Holiday and leave policy
· Company work culture
· Communication channels
· Growth opportunities
· Performance parameters
 
What is the most important/ best practice in employee onboarding?
Some of the most important practices during onboarding are to ensure that the employees are engaged enough to understand the company culture and goals, connect with co-workers, brush up on existing skills and gain new skills.