Gone are the days when employees would wait for their annual review which would then play a major role in deciding their future compensation. Employees want to be commended for a job executed well. After all, it gives them a sense of satisfaction and also boosts their morale. 
According to reports, companies that provide regular employee feedback have a 14.9% lower turnover rate compared to those that don't provide regular feedback. Moreover, 69% of employees admit they would work harder if their efforts were recognized through feedback. 
Clearly, feedback holds great importance among employees as 98% disengage from their roles when receiving little or no feedback. 
What do these findings tell you? That employees in any company want to know how they are performing and that there exists a need to streamline their employee performance review. 
Employees want more feedback. They want to be informed about their quality of work, areas that need improvement, and of course, acknowledgment for a job well done. And here, performance management software comes into play. In fact, it has gradually become an important part of an HR toolkit. 
Put simply, performance management software is a special type of software designed to evaluate employee progress and spur overall productivity. It functions by tracking an employee's performance through a consistent and quantifiable method. 
Consistent evaluation helps to maintain constant communication between the manager and the individual employee. Such software can also handle basic tasks like scheduling, data analysis, and progress tracking along with offering 360-degree feedback. 
6 Criterias to select Top Performance Management Software
Although a fairly new concept, performance management software has managed to make an appearance in top organizations. Thus, there are a variety of software options to choose from. But, before you take a call, you need to consider certain important criteria. Understanding these criteria will help you decide while choosing the best performance management software.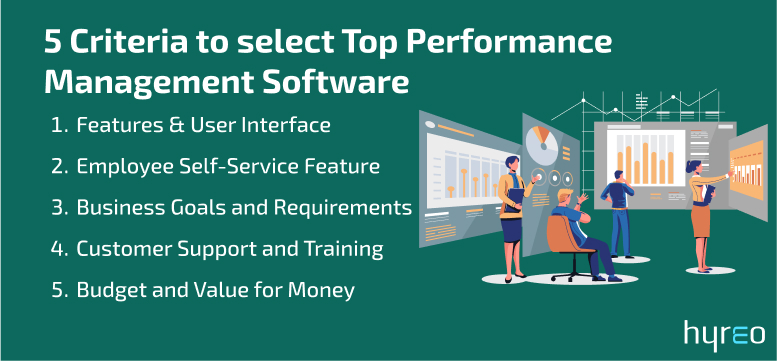 Some of the things that you need to consider are – 
#1 Features
While choosing the best performance management software, you need to list down all your requirements. Mention all the challenges your company is facing while managing its workforce. Talk to employees and know where the feedback or communication is lacking. After knowing all this, enlist the features that would be best suited to overcome those challenges. While these features may vary from organization to organization, here are some popular features needed in performance management software – 
Constant performance tracking 
Employee performance reports
One-on-one meetings and scheduling 
Tracking of task completion
360-degree feedback questions
Integration with other human capital management (HCM) tools 
 
Figuring out the features will help you eliminate options and choose the best-performance software. 
#2 User Interface 
When choosing top-notch performance management software, you need to think from an employee's perspective. While the software may offer some good features, it may not be easy to navigate. Thus, user-friendliness and a simple user interface (UI) are two qualities that you cannot overlook. A user-friendly software can be rapidly adopted by employees across all levels of the company. With a simple training session, it can be used as soon as it is made available to the company. 
Here are some aspects to determine a software's user-friendliness – 
Availability of short-guide or instructional manuals for different functions 
Ease of navigation 
Ease of usage for unskilled or less tech-savvy employees
Accessibility through the mobile phone when on-the-go 
Booting time 
#3 Employee Self-Service Feature 
In addition to being easy to use, you should also prioritize performance management software that offers the employee self-service (ESS) feature. This feature enables employees to conduct self-review, provide their input about various developmental activities happening in the company, access their annual performance review, etc. ESS also helps the HR department in streamlining the performance of other departments and write reports. 
#4 Business Goals and Requirements 
Each company operates on the basis of certain long-term goals. One of the steps to achieve these goals is by increasing the overall productivity of the workforce. And this is where performance management software enters the picture. Thus, before making a choice, you need to define the goals that you wish to achieve with performance management software. The goals can include providing pre-determined tasks for each employee, improving the turnaround time, enhancing communication with various departments, etc. 
#5 Customer Support and Training 
Ideally, you would want to choose a performance management software that is accessible and provides efficient customer support. You need to ensure that the vendor provides support after the software has been installed or when a new upgrade needs to be installed. The vendor should also provide easy access to customer support executives and not compel you to stick to elaborate manuals to solve an issue. 
#6 Budget and Value for Money 
Last but not least is your available budget for buying performance management software. If you are working on a strict budget, it should be one of the first factors to consider while making a choice. However, if there are no budgetary constraints, feel free to prioritize the factors mentioned before. 
It is no surprise that the more features, the higher will be the cost of performance management software. So, you need to pick and choose some features over others and pick software that fits your budget. Just as a precaution, try to search for software that provides a trial period. So that you can experience it and accordingly, decide whether or not it suits your company's needs. 
5 Best Performance Management Software 
Now that you know the factors to keep in mind while choosing the software, here is the list of the top 5 best performance management software, along with their features and price points – 
#1 PerformYard
With the motto of 'Flexibility for HR' the PerformYard performance management software allows HR professionals to devise an employee strategy based on the combination of reviews, goals, and consistent feedback. Although present with a variety of functions, this software can be simplified to only provide annual performance reviews. 
The software offers features such as 360-degree review, reporting, and identification of top-performing employees, goal management, consistent feedback, etc. It offers two plans – professional and enterprise. The former caters to individuals and offers features such as performance reviews, goal management, dedicated customer success manager, phone, email and knowledge base, etc. 
The enterprise version of PerformYard caters to companies as individual entities and offers features such as data integrations, custom single sign-on (SAML) custom implementation, additional data storage, etc. 
PerformYard is able to integrate with ADP, Gusto, Microsoft Office 365, BambooHR, GSuite, Microsoft Teams, Okta, OneLogin, Slack, Rippling, Paycom, and other HCM tools. 
Key Features 
Allows review cycles and check-ins across varying frequencies 
Offers 360-degree review and reporting 
Dynamic integration of employee goals and objectives 
Ongoing and continuous feedback between manager and employee 
Two kinds of plans available with unique pricing 
Free-demo facility available 
Pricing: USD 5-10 per person, per month and billed annually (for professional plan), enterprise plan pricing not mentioned 
Check – 5 Pre Employment Test Software
#2 HiBob 
Bob, also known as HiBob, is primarily a human resources information system (HRIS) which is known to provide a fun and engaging user interface, replicating social media. This HR system is not only centred around employee performance but caters to other HR needs such as onboarding, compensation, surveys, time and attendance, payroll hub, workforce planning, people analytics, etc. 
Although it is an all-encompassing HRIS, you can only choose and pay for the services you require. If feedback and performance review is your basic objectives, then it is your choice whether or not to avail of other features. The price point also depends on the tools you choose. 
With respect to the performance feature, Bob provides 360-degree performance reviews through a singular, centralized platform. It also allows seamless review cycles, actionable goal-setting, one-on-one meetings, and insights to write reports. It promises detailed reports from various angles such as self, manager, and director. Bob also allows an employee to choose his/her peer reviewer to gain feedback which seems most valuable. 
Bob integrates with more than 40 software applications such as Google Suite, Microsoft Teams, Slack, and Zapier, along with learning and development platforms like HowNow, Learnster, Learn Amp, 360Learning, Auzmor, Go1, Zavvy, and others.
Key Features: 
Free demo facility available 
An all-encompassing system with performance review as one of the features 
Pricing is based on features availed 
A single, centralized platform 
Detailed insights from different angles 
Pricing: Not directly specified on the website 
Check – Best 6 HRMS Software in 2023
#3 15Five
15Five is yet another software that provides 'performance review' as one of the many features to HR professionals. It also specializes in engagement surveys, feedback tools, OKRs, goal management, and upskilling managers at all levels. Invariably, the pricing depends on the tools you avail from the software. 
With respect to the performance part, the 'perform' feature of 15Five offers an end-to-end, 360-degree program to help HR professionals make the right talent decisions. Due to its flexible nature, this feature helps to create a performance program suiting your HR strategy. Finally, with the help of distinct dashboards, you can access detailed performance insights to choose talent better fitted to the organization. 
15Five integrates with several HR systems including Gusto, Namely, BambooHR, Sapling, Rippling, and Workday. 
Key Features: 
Allows quick review cycles along with 360-degree review 
Flexibility and detailed performance insights 
Additional features like goal management, surveys, and feedback tools are available 
Dynamic pricing based on features availed 
Free demo available 
Pricing: 
Engage plan – USD 4 per user/month 
Perform Plan – USD 8 per user/month 
Focus Plan – USD 8 per user/month 
Total platform – USD 14 per user/month 
All plans are billed on an annual basis. Free demo available for all plans.
Check – Best Corporate Board Meeting Software
#4 BambooHR 
BambooHR markets itself as an 'all-in-one' HR software, specifically catering to small and medium-sized businesses. In addition to performance management, the software focuses on easy onboarding, collecting and maintaining employee data, compensation management, and helping you develop a distinct company culture. 
At the heart of this software, lies its capability to collect, analyze and store employee data in a systematic manner. This invariably helps HR professionals determine employee performance and make the right talent decisions. With employee information existing in a singular system, you can use reporting and editing tools to create comprehensive reports. In simple terms, BambooHR focuses on managing workforce data simply and systematically. 
BambooHR offers two basic plans – Essentials and Advantage. While the former plan caters to companies that are just starting out their HR journey, the Advantage plan caters to firms that have some business experience up their sleeves. Additionally, you can also integrate add-ons like payroll, performance management, and time tracking into your software. 
Key features: 
Free demo facility available 
Company-specific plans with add-ons available 
Robust employee data management system 
Features like onboarding, compensation management, company culture development, etc. available 
Pricing: Not specified on the website 
Check – Best 5 Safety Management Softwares
#5 Leapsome
Leapsome is another sought-after system offering a plethora of HR-related services including performance review, OKR and goal management, engagement survey, feedback, onboarding process, compensation, promotion, acknowledgment, etc. 
Since Leapsome offers distinct features, each feature exists as a separate plan, the cost of which has not been specified on the website. However, your pricing will depend on the list and the number of features you choose. 
Although each plan will offer different services, certain add-ons are included in all plans. These add-ons include HRIS integrations, multilingual platforms, slack and MS team integration, customer support, SSO and encryption, Full GDPR compliance, etc. These add-ons are free-of-cost and will not be charged separately while availing of a specific plan. 
The performance management software provided by Leapsome comprises two aspects – performance review and skill framework. As part of the first feature, you can run a 360-degree review of each employee using templates and frameworks already included in the system. The skill framework will help you create a roadmap for the growth of each employee or department. 
Leapsome integrates with BambooHR, GSuite, HiBob, PayFit, Personio, Rippling, Slack, Active Directory, ADP, Jira, Microsoft Teams, and others.
Key features: 
Free demo facility available 
Offers performance review along with onboarding, feedback, and goal management services 
Add-ons like customer support and HRIS integration are available for free
Dynamic pricing based on plan and features chosen 
Pricing: Depends on the plan availed, not specified on the website 
Check – 5 Best Applicant Tracking Software to look out for in 2023
Conclusion
Usually, an isolated performance management software does not exist but is clubbed with other features such as onboarding, feedback, acknowledgment, goal setting, employee data analysis, etc. While your main focus is to manage employee performance, having other tools at your disposal is always an advantage. 
This way, you can not only streamline the employee review process but also systematize other aspects of employee management. You can ensure that the right talent is working in the firm while creating a pathway to achieve the company's long-term objectives, all the while making sure that his/her goals and aspirations are met along the way. 
FAQs on Performance Management Software 
What are performance management systems?
Performance management systems objectively track the performance of employees and teams with respect to the business strategy and priorities. Put simply, performance management software is a special type of software designed to evaluate employee progress and spur overall productivity.
It functions by tracking an employee's performance through a consistent and quantifiable method. It leverages technology to implement performance management methodologies to enable the achievement of strategic organizational goals. 
What is the best performance management software?
The top 5 performance management software on the basis of features, ease of use, customer support and value for money, etc. are 
1.      PerformYard
2.      HiBob
3.      15Five
4.      BambooHR
5.      Leapsome 
What are the 3 key phases of performance management?
The 3 important phases of performance management to create a culture of high performance are 
1. Setting SMART goals – Setting clear and measurable goals on the basis of business objectives and priorities 
2. Frequent reviews – Conduct frequent reviews with employees to ensure open and clear communication with a focus on coaching and mentoring 
3. Continuous feedback – Provide continuous feedback to employees to ensure transparency and clarity of expectations and performance, helping them improve their performance continuously
What are the 3 pillars of the performance management cycle?
In order to build a culture of high performance, the performance management process should be built on the below 3 pillars: 
1. Transparency – Alignment of individual, team & department goals to the overarching company goals 
2. Coaching – Enables the grooming of talent based on their performance and aspirations to take on higher roles with greater responsibilities 
3. Reward – Helps acknowledge, motivate and retain top performers with appropriate reward systems, both monetary and non-monetary 
How can KPIs be used in performance management?
Performance management metrics or KPIs help companies translate their business objectives and priorities into measurable goals. These SMART goals and KPIs can be tracked at the business units or department level to help steer the business toward growth and profitability.
When these goals are set at individual levels, they enable the evaluation of the performance of team members, helping reward or coach them accordingly.