The internet today has transformed the way companies do business. With newer technologies and advanced industrial automation, businesses are becoming more productive and efficient than ever before. While automation can replace employees' work, it is hard to replace their knowledge and skill set. Hence, it is critical for businesses to choose the right set of employees that bring in better business productivity and efficiency. 
Choosing the right employees is instrumental for business growth and success. However, organizations are focused on how they bring their new employees in while introducing them to the ethos and integrating them seamlessly with the company. 
To ensure that they have the right onboarding process many companies make use of employee onboarding software. This provides them with multiple benefits and ensures better results as they hire more new people to improve business productivity. 
7 Benefits of Employee Onboarding Software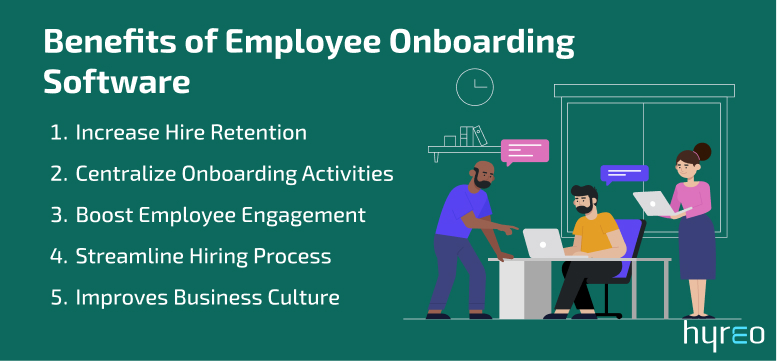 Having a good employee onboarding program can make a huge difference. Let's take a quick look at the 7 benefits of employee onboarding software. 
#1 Increase Hire Retention 
First impressions matter. 
This is true not just in personal life but also in the corporate business world. The entire concept of onboarding employees is based on making the new employees feel welcomed and getting acquainted with the business ethos, various departments, co-workers, and multiple processes. 
A well-executed onboarding program can work wonders and have a lasting impression on the new hires and help them stay with the company. 
With the right onboarding process, new hires feel nurtured and appreciate the process that they are going through which allows them to know more about the company and various processes and people associated with various departments.
#2 Centralize Onboarding Activities
Employee onboarding consists of various individual processes. Hence, juggling all these activities can get a little hard to manage if you don't have clarity on their status. This would include activities like salary negotiations, new hire documentation, and paperwork, assigning job offer letters, informing them about employee benefits, introducing them to policies and culture of the company, executive-level and team introductions, and job training. 
Having the right onboarding system would allow you to create an onboarding checklist to ensure that you know the real-time status of specific activities. This would also allow you to control the employee onboarding tasks exactly the way you want. 
#4 Boost Employee Engagement
Various businesses have different onboarding employee processes and that can influence the new hire retention rate. Often, new hires are nervous and stressed about how they will fit in within the new organization.
They often find it hard and scramble to find connections with established employees that can make a difference. With the right onboarding program features, you have the opportunity to come up with better ideas to keep new hires engaged and help them connect with the existing teams and employees. 
#5 Streamline Hiring Process
Streamlining your hiring process is critical to ensure that new hires have clarity on what they are getting into and how they will be introduced to the company processes and management. Having control of the employee onboarding process allows you to streamline the hiring process because you have real-time updates on the status of activities and what works and doesn't work for your business.
If your company has more than one hiring team, they can communicate and collaborate through the software to make the hiring process productive and manage training. 
#6 Improves Business Culture
Different businesses and companies have different business philosophies and cultures and when you are hiring new people, you need to ensure that they understand the corporate culture quickly and correctly.
This allows you to interact with the new hires and how they are introduced to the business processes and existing employees. Also with a better onboarding process, you can build trusting relationships amongst employees allowing them to blend in quickly into your business processes.
#7 Minimize Paperwork and Documentation Error
Hiring new employees would also mean that the hiring teams have to go through plenty of documentation and paperwork processes. This can be time-consuming and also make things complicated for the hiring team as they have to manage the paperwork process over and over. 
With onboarding programs' additional features, you can minimize the paperwork and ensure that hiring teams have templates of welcome letters, and appointment letters, set up payroll, and create an employee handbook. This ensures that there are no documentation errors that would make a bad impression on new hires. 
#8 Minimize Employee Turnover Cost
For most businesses, employee turnover cost can be a challenge they need to resolve within a specific time. With the help of an employee onboarding program, you minimize the cost and ensure that more new hires stay within the organization. 
With better communication, new hires have clarity about the corporate ethos and values and have a strong bond with the existing teams and departments that would welcome them into the system. 
They can have better employee training and introductions. This shortens the time to hire new employees and eliminates redundancy across multiple departments and smoothens the onboarding experience. 
7 Onboarding Software Comparing Criteria
With plenty of employee onboarding programs and software available in the market, things can get pretty overwhelming when it comes to finding the right one for your business. 
Here are 7 tips on how to choose the right employee onboarding software for your business. 
#1 Setting Your Goals and Expectations
Even before you decide what employee onboarding program you want to choose for your business you must have clarity on what you expect from it. Different businesses have different expectations. 
Ask yourself the question as to what issue the software solves, or how it can make your existing employee onboarding tasks better. You need to list down all the pros and cons of the program before you know how to choose the right one. 
#2 Simple and Intuitive Interface
A comprehensive program sounds like a great idea, but if the overall user interface is intricate and complex to navigate, it doesn't serve its purpose. Employee onboarding software must be designed to provide you with a seamless experience and integrate various processes and guide your team through any performance issues.
#3 Mobile Optimization 
We live in a world where mobiles and smartphones are an indispensable part of our lives. Choosing onboarding programs that allow you to work on multiple devices would make your work life easier as you don't have to be in front of your computer 24/7. You can also handle other advanced features like managing payroll directly from your mobile device. 
#4 Digital Signing Capabilities
One of the benefits of onboarding programs is that they reduce paperwork and errors by offering digital signing options. This makes it easier to sign offer letters even from your mobile devices with ease. With the help of digital signing capabilities, you can gently nudge your new hires to sign their paperwork on time and remind them to provide required documents and streamline the process. 
#5 Customizing Options
Different businesses have different departments and each department has different processes to manage. Hence, your employee onboarding software must allow you to customize software features as per your business workflow requirements and manage training courses. With this, you can set what features you want consistent for all departments and what features you want to customize. 
#6 Employee Self-Service
Instead of entering all the information manually, it would be a better idea to let the new hires fill up the necessary documentation and paperwork options. Having employee onboarding software with an employee self-service option makes your job easier as you can send reminders to new hires and they can fill up all the necessary information and upload it to the system. 
#7 Cloud-based Technology
When you have a business that is branched out to different cities and countries you want a system that allows you to connect with all of them seamlessly. Choosing an employee onboarding software with a cloud-storing facility makes it easier for storing and managing documents online, and collaborate with employees, teams, and departments across all branches.
Also, cloud computing offers the flexibility to access information as and when required and exceptional data recovery. 
Top 5 Onboarding Software You Can Choose for Your Business
Now that we have clarity on the benefits of employee onboarding software and how you should choose one for your business, let's dive deeper into the list of programs that allow you to manage employee onboarding tasks. 
#1 Zoho Learn
Zoho Learn is Zoho's interactive and dynamic cloud-based learning management system that makes it easier for you to make employees feel comfortable. This program allows you to curate engaging and effective employee training programs and help you choose from a variety of content types like video, audio, image, text, or a combination of each. It also allows you to evaluate the submissions of employees and provide feedback.
With this, you can track employee training sessions and progress and build a centralized knowledge base for different departments. 
Key Features: 
1. Easy to use Interface and can be customized in a way that is suitable for your organization's needs
2. Zoho Learn can create a customized onboarding process to welcome new employees, keep them engaged and retain them.
3. Creates onboarding reports where the talent acquisition team can give an overview of the total employee who has been on-boarded and is yet to be on-boarded by the organization
4. Track employee activity and progress and build a centralized knowledge base. 
Pricing: 
Depending on the solution you are looking for, costing for Zoho starts at Rs 48 per user per month and can go up to Rs 350 per user per month, depending on the plan you choose.  
Check – Best Employee Onboarding Practices to follow in 2023
#2 Freshteam 
Freshteam is Freshworks' employee onboarding tool that allows you to manage new hires by streamlining your document management process, managing forms, and keeping your new hires informed and updated.
It allows you to put together an onboarding kit to ensure that right start. You can send new hires reminders and automatically assign tasks and track them.
Similarly, you can also off-board employees and have an employee self-service system with an excellent easy-to-use interface. You can get a 21-day free trial to try the software before you choose a custom enterprise plan.
Key Features: 
1. Create and send an onboarding kit that can include documents to sign, an employee handbook, fill necessary forms, etc. online.
 2. Centralizes all the employee information, including collecting documents for easy reference. 
3. With its open APIs, you can integrate it with any other application. 
Pricing: 
You can opt for the free plan with some basic features. Other plans start at $1.20 per employee per month with a $71 platform fee per month. If you want to buy the highest version, you will need to pay $4.80 per employee per month, with a $203 platform fee per month.  
Check – Best Employee Orientation Practices
#3 BetterPlace
If you are looking for automated employee onboarding process software, BetterPlace would be a good choice. It is a practical AI-assisted onboarding program that helps you deliver a tailored employee onboarding experience that would allow you to engage, attract and retain talent for your business. The software allows you to configure features and automate the process. It also offers mobile-first design and analytics-based insights for you to improve your onboarding tasks. 
Key Features: 
1. Content can be customized, and you can onboard about 10000 employees at one go and collect documentation through the onboarding tool, 
2. Mobile-friendly design
3. New employees can be on-boarded using their mobile number.
Pricing:  Available on request 
Check – Best 7 Employee Payroll Software in 2023
#4 Zavvy 
Employee onboarding software by Zavvy delivers excellent onboarding solutions just a click away. With its excellent user interface, it drastically minimizes the manual workload and ensures a better way to build, assign, track and engage your new hires. It also allows you to automate most of the tasks so that you can focus on your priorities. It can also integrate with other programs like Google or Microsoft Suite. Zavvy does offer a demo option but has different base plans for a month per employee.
Key Features: 
1. Zavvy offers a buddy assignment feature where a new employee can have an onboarding buddy to help them throughout the whole process
2. You can customize reports, templates, processes, etc.
3. It can be integrated with existing software as well. 
Pricing: Euro 6 per month per employee
#5 Papaya Global
Papaya Global's employee onboarding program helps you automate the employee onboarding process and management the right way. With this paperless route, you can do faster onboarding and document collection, manage records, have easier access, have more control, real-time insights, and analytics, and focus on what's important for your business.
Key Features: 
1. Automated boarding and can board in 160+ countries without entity establishment
2. Encrypted data exchange
3. Easy 3rd party integration
4. Country-specific onboarding workflow
Pricing: Prices start at $20 per employee per month. 
Conclusion 
Employee onboarding usually lasts a few weeks or months. Hence, businesses must make their new hires and employees feel confident and competent and find a way to seamlessly introduce them to business values, culture, processes, departments, and various teams.
With the right employee onboarding software or program, you can ensure that employees have the resources to know the company better, internalize and manage their training and feel confident about doing their job as expected. 
FAQs on Top Employee Onboarding Software  
What is employee onboarding software?
Employee onboarding software facilitates a smooth and seamless onboarding for offered candidates, prior to their joining. Companies are very focused on creating a great employee experience, right from the start, helping improve talent engagement and retention.
So, employee onboarding software is key to the experience, facilitating the bringing of new employees into the company in the best manner possible, while introducing them to the ethos, and integrating them seamlessly with the company. 
What are the benefits of using employee onboarding software?
Having a good employee onboarding program can make a huge difference. The benefits of using employee onboarding software are:
· Increases Hire Retention
· Centralize Onboarding Activities
· Boost Employee Engagement
· Streamline the Hiring Process
· Improves Business Culture
· Minimize Paperwork and Documentation Error
· Minimize Employee Turnover Cost 
Which are the top 5 employee onboarding software?
While there are many players in the employee onboarding space, some may be better suited to some organizations based on their priorities and operations. Based on our research, the top 5 employee onboarding software is:
1.      Zoho Learn
2.      Freshteam
3.      BetterPlace
4.      Zavvy 
5.      Papaya Global
What are the 5 top best practices for onboarding employees?
The top 5 best practices for onboarding employees effectively helping provide a great employee experience and influence retention are: 
1.      Effective engagement post offer with candidates with a pre-joining buddy
2.      Hyper-personalized first day at work helping them feel welcome and excited about starting work 
3.      Completely prepared for the employee at work with paperwork done before their start at work (workspace, laptops, access, introduction meetings with the team, clients, etc.)
4.      Clear information on the first week at work (team, physical work location, project information, process, tasks, etc.)
5.      Early cultural immersion by leaders & hiring managers, enabling alignment to vision & mission 
What is post-offer candidate engagement?