In recent years, virtual recruiting has evolved from a novelty to a necessity for recruiters around the world. Recent disruptions to the world economy, as well as to our ability to travel and congregate, have only made virtual recruiting more important to every company's hiring strategy.
Companies have had virtual recruitment strategies in place for some time. However, since the Covid-19 pandemic changed the way most companies operate, many more are now actively recruiting, hiring, and onboarding without ever meeting the candidates face to face.
The good news is that, thanks to technology, it's not as hard as you might think to make the shift to virtual recruitment strategies. The key is to stick to your basics and identify the foundation of your recruitment philosophy and apply that to the virtual world.
What is Virtual Recruiting?
Virtual recruiting isn't new. It's been around for decades. The first job board launched on a dial-up BBS way back in 1992, the same year IBM built the first smartphone. A new age of technology was born. Since then, the demand for innovation has driven consistent advances in technology, allowing the practice of virtual recruiting to expand exponentially.
Virtual recruiting is a hiring process that takes place remotely, without face-to-face interactions between recruiters and candidates. Virtual recruiting is much more than online job ads and chats with recruiters. Virtual recruiting means employers can do more with less. Done right, virtual recruiting reduces administrative work for recruiters, allowing them to focus more time and energy on building relationships with candidates and vetting talent.
Virtual recruiting tools allow recruiters to manage their entire recruiting cycle online, if they choose, with a range of tools supporting each stage of the recruiting funnel. Recruiters can now easily use online tools to attract talent, connect and screen candidates, conduct in-depth interviews, introduce candidates to hiring managers and even give virtual worksite tours, all without ever meeting a candidate in person.
In actuality, virtual recruiting relies on a host of different tools, all designed to help deliver a stellar candidate experience while helping recruiters do their jobs more efficiently and effectively. An effective virtual recruiting strategy relies on having the right tools for each specific organization, and may include recruiting chatbots, text and email recruiting, virtual chats, and video interviews, among others.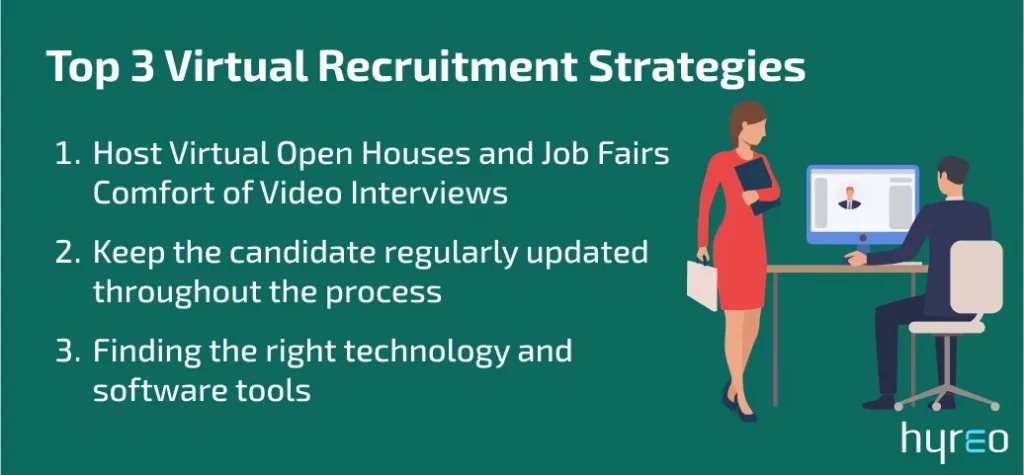 7 Important benefits of Virtual Recruiting
Virtual recruitment is an attractive option for many reasons, but it's bordering on essential in today's digital world. Job seekers expect employers to offer at least some elements of virtual recruiting due to the convenience, but there are many other reasons for talent acquisition leaders to lean into virtual recruiting. Let's find out how
#1 Cost Control
Virtual recruiting offers employers more control over hiring costs. Virtual hiring events are less costly than in-person events, and the cost scales with the volume of participants so it's easier to plan ahead. Since virtual recruiting requires no travel, hotel accommodations, refreshments, the savings really add up, especially for organizations with high-volume hiring needs.
#2 Reduce Time to Hire
Virtual recruiting also speeds up recruiting cycles, shortening each stage of the recruiting funnel. By moving candidates more quickly through the process, employers save time and resources while improving their competitive advantage where top talent is concerned.
#3 Improve Candidate Experience
Job seekers consistently report wanting more communication with recruiters and more information about potential employers and the recruiting process. Virtual recruiting makes this easy, especially when tools like virtual chat and virtual career fairs are used. Candidates can connect with recruiters and hiring managers more quickly through events, or get answers to basic questions through a recruiting chatbot.
#4 Adds More Channels of Communication
Top talent enjoys having more options for how they communicate with employers. Candidates want to choose how they interact with potential employers, so when recruiters participate in texting, email, and social media, candidates are free to decide which channel works best for them.
#5 Remove Geographic Barriers
Virtual recruiting helps employers expand their candidate pool by reaching outside their immediate geographic area. Virtual recruiting also means you can include more hiring managers and other key people from within your organization in your recruiting process, because they can join virtual events without the hassle and expense.
#6 Diversity, Equity and Inclusion process
Virtual recruiting helps organizations reach their DEI hiring goals by facilitating interactions with a more diverse candidate base that would have otherwise been ignored or unintentionally excluded by more traditional in-person hiring practices.
#7 Maximize Results
Hybrid recruiting combines virtual recruiting and in-person strategies in a complementary way, allowing recruiters to reap the best of both worlds. Executed well, hybrid recruiting helps employers maximize the results and the returns from virtual recruiting, while still allowing recruiters to conduct in-person recruiting when it makes the most sense.
6 Virtual Recruitment Strategies
If you want to keep your talent pipeline flowing and continue hiring, even during any kind of crisis, here's how to do it step by step.
#1 Host Virtual Open Houses and Job Fairs
Hosting live video conferencing meetings where you invite prospective candidates to "meet" your hiring managers, virtual office tours, and Q&As with various team members are all great ways to engage with talent and give them a chance to learn more about your company
#2 Start with Phone Interviews
Screening candidates with promising resumes or who've shown interest in your company is still a vital step toward finding good candidate matches. Typically, the recruiter will learn as much as they can about the individual before they decide whether it's someone they want to pursue. If so, they may set up a second conversation through a phone conversation or two.
#3 Comfort of Video Interviews
While many companies have already gotten used to doing video interviews, some still need to shift their perceptions. Since you're seeing people in their home environment, rather than a conference room, it provides a unique opportunity to make the interview experience more personal. Video allows you to get to know the person before you even get to their competencies. Virtual interviews also have the benefit of recording features so that other team members who aren't in the meeting can review and share their feedback
#4 Remote Onboarding
Onboarding in a virtual environment can definitely work—just ask companies that hire and manage remote workers. If you haven't done it before, the notion of a new person starting without coming into an office and meeting with a team in person might sound odd. However, having a solid plan about what they will do on day one is the key. Make sure new hires have a thorough welcome mail, as well as everything they need from HR and also set up virtual meetings with managers and team members.
#5 Sticking to Process
Just because you're changing the medium doesn't mean you should change your hiring process. If you normally have your candidates go through six interviews, then you should continue that. Ask the same questions that have worked for you in the past, while allowing for a bit more personalization that may happen as a result of the intimate setting of the person's home. Virtual recruitment strategies are important tools in the toolbox. They can help companies hire remote workers from all over the world without having to worry about flying people in for meetings. 
#6 Finding the right technology and software tools
There are many categories of virtual recruiting tools – Programmatic Advertising, Social Networks and Management Platforms, Text/Email Recruiting, Chatbots, Employee referral tools, Virtual Career Fair Platforms, Video Interviewing tools, Behavioral and Skill assessment tools etc.
Virtual Recruiting Events
Virtual recruiting events are an opportunity to broaden your talent pipeline. With virtual events, you have the chance to build brand awareness and connect with talent segments that otherwise might not know about your organization. And virtual recruiting events eliminate the need to travel to a specific spot at a set point in time, which means you can greatly expand your reach to engage more talent. Here are a few examples of the types of virtual hiring events today's top employers are hosting:
Informational Events – These are focused on sharing information, typically about your organization. Job seekers want to learn about an organization's
Educational Events – Some hiring events are less focused on the employer and more on the job seeker. During educational events, employers can strengthen their employer brand and build trust among job seekers by offering advice, tools, and resources that help job seekers improve their job search. culture and values before they devote time and energy to a recruiting process, and these events help satisfy that demand.
Pre-Screening Events – This type of virtual career fair is designed to produce a pool of pre-qualified candidates that recruiters or hiring managers can interview at a later date. Especially useful when hiring for high-volume roles, pre-screening events can include assessment tools that help screen candidates automatically before they continue on to a pre-screening chat or video interview with a recruiter.
Hiring Manager Interviews – Often the next step after a pre-screening event, you may opt to host a virtual recruiting event solely for hiring managers to interview pre-qualified candidates. This type of virtual career fair often results in job offers on the spot or immediately following the event.
Costs of Virtual Recruiting 
The cost of a virtual career fair can vary based on the extent of features, duration, exhibitor participation, and customizations required to match the organizer's needs. On average, institutions hosting virtual career fairs can expect prices for the platform to start around USD $9,000, with the standard solution set covering the technology, support, and services.
The Limitations of Virtual Recruiting
Technology issues – virtual recruitment relies heavily on technology, so you are dependent on systems working smoothly for you. Extensive system testing and having a fall-back plan can help you counteract this.
A high volume of applications – as virtual recruitment removes geographical barriers; you might attract a large volume of job applications. However, clearly describing job specifications and distinctly outlining required experience and qualifications will help to ensure you only invite responses from suitable candidates.
Too impersonal – candidates may find the process is too detached as there is no face-to-face physical interaction with virtual recruitment. By ensuring there are options for communication throughout the recruitment process, employers may find that they have the opportunity to interact more effectively with candidates in a virtual environment than they may have when recruiting traditionally.
Logistical Problems – What if the best-qualified candidates for your opening live halfway around the world? If that's the case, you'll have to consider conducting screening interviews by telephone or email, which limits the expense of an in-person meeting. If the process moves forward, it poses the dilemma of whether it is really worth bringing the person in for an interview
Rounding up
Virtual recruiting helped employers continue recruiting, often seamlessly, during a global pandemic, even while offices were shuttered and recruiters worked from home. Looking ahead, virtual recruiting tools and strategies will continue to benefit organizations by controlling recruiting costs, speeding up the hiring process, strengthening employer brand, and helping recruiters connect with top talent regardless of location. 
While most organizations are eager to resume in-person recruiting once the pandemic is behind us, an overwhelming majority 96% of talent acquisition professionals say they will continue using virtual recruiting. By combining virtual recruiting with in-person strategies as part of a broader hybrid recruiting strategy, employers can continue to benefit from the agility and flexibility virtual recruiting offers. Retaining the ability to quickly adapt to new challenges will become a key differentiator for employers of choice in the coming years.
FAQs related to Virtual Hiring
How do I recruit remotely
Here are the quick steps you can follow to hire remotely –
·   Definition and goal
·   Proper Job Descriptions
·   Implement an Applicant Tracking System
·   Remote Interview Prep
·   Conduct Remote Interviews Efficiently
·   Know How to Test Remote Candidates
·   Make the Right Hiring Choice
·   Virtual Onboarding
Why is virtual recruitment important
The purpose of e-recruitment is to make recruiting processes more efficient and less expensive. And, by using e-recruitment, HR managers can reach a larger pool of potential employees and speed up the hiring process.
How do you host a free virtual job fair
·       Choose a platform like Hyreo
·       Develop a strategy and a timeline
·       Prepare your budget
·       Set up virtual booths
·       Reach out to partners and hire staff
·       Advertise your event
·       Keep attendees well-informed
·       Encourage job seekers to upload their resumes
How do you recruit people online
·       Run a Creative Ad Campaign Targeted at Employees & Potential Recruits
·       Write Guest Posts That Reference Your Company Culture
·       Add a "We're Hiring" Link to Your Support Team's Signatures
·       Send a Message to Your Email Subscribers
·       Search for Portfolios Using Relevant Keywords
·       Post Your Company's Positions to Major Job Boards
Why do recruiters use virtual interviews
With virtual interviewing, candidates can fully vet companies from the comfort of their own home, secure the job offer and sign on without spending a dime on travel costs during the recruiting process