Talent and human resources are among the most valuable investments a company can make. Most hiring managers agree that hiring potential candidates before losing them to their competitors is essential. The company with the best talent is the company that shapes the best products, and it is the companies with the best products that ultimately succeed. In short, sourcing talent is the only way to effectively achieve long-term business expansion.
Businesses use talent mapping techniques as a strategy to plan for short, medium, and long-term recruitment. According to 2021 US government data, approximately 4.3 million Americans resigned from their jobs in August 2021 as part of the Great Resignation. 
The value of talent mapping is directly related to its ability to help individuals forecast future requirements for the company. For example, a software company may need to preemptively upskill itself on the latest technologies by hiring developers with suitable skill sets. 
What is Talent Mapping?
Talent mapping is a process that helps companies forecast long-term hiring requirements for steady growth. With the data collected from talent mapping, a company can focus on cultivating organizational support for new roles within a stipulated time frame. It helps align a company's vision and goals with the talent it must hire to reach these goals.
Talent mapping can be used to get a comprehensive view of the talent pool to best identify the ideal match for each role. It also assists in identifying areas where talent and skills are limited. Thus, recruitment methods can be adapted to fill specific talent gaps. Furthermore, it enables a company to encourage skill development among employees through appropriate training and development programs.
In addition, it helps business leaders proactively build workforce capabilities through an in-depth and logical process. It entails identifying existing employees' capabilities, expertise, and potential and aligning them with a strategic plan to bridge competency gaps and development needs.
Why is Talent Mapping Important?
Not only does talent mapping help a company align its existing talent pool with its business strategy, but it also makes it easier for human resources to identify and hire the right candidates. Here is all you need to know about the importance of talent mapping.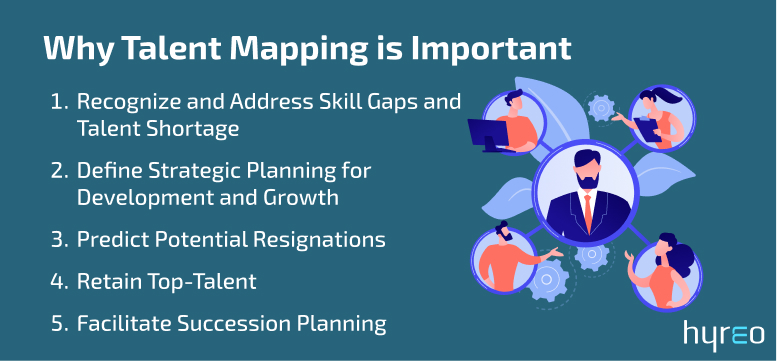 #1 Recognize and Address Skill Gaps and Talent Shortages
Talent mapping allows recruiters to assess the skills and talent their organization requires currently, or will require in the future. Once they have identified these skills gaps, they can fill them by recruiting new employees or retraining and retaining existing employees.
Furthermore, talent mapping can help individuals avoid skills shortages in the first place. With the right information at hand, businesses will be able to effectively assess future requirements and create appropriate strategies to fulfill those goals.
#2 Define Strategic Planning for Development and Growth
Talent mapping can assist in identifying training requirements and planning how to address them. Training and development initiatives that are relevant to a company's talent pool will help in:
Identifying the right employees for the right role.
Creating and enhancing one's employer brand.
Improving one's offerings of products or services.
Hiring and keeping the best talent.
Making long-term planning more manageable.
#3 Predict Potential Resignations
A study published in the Harvard Business Review, suggested that observations and data collated from skill mapping could also indicate if an employee is on the verge of resigning. The researchers outlined 13 'quitting' behaviors in the study, including a decline in productivity and a loss of enthusiasm. Taking these behaviors into account can add an intangible value to talent mapping and help fill in key positions in the organization, well beforehand. 
#4 Retain Top-Talent
Top talent is constantly striving to improve. That is why it is important to provide appropriate career development opportunities in order to retain the best employees. This can be accomplished through a combination of talent mapping, learning, and growth.
Companies can give their employees an opportunity to augment their careers within their organization by providing the right skills training. With the help of talent mapping, they can even set up tailored mentoring programs that allow senior staff to guide and support new employees and subordinates.
#5 Facilitate Succession Planning
Whenever companies or firms have a clear understanding of their talent requirements, they can create a talent-management strategy that will help them identify and prepare potential successors for key roles in their organization. This enables them to ensure business continuity if one or more of their senior executives leave or retire, especially at the same time.
Choosing the right successor isn't always easy, even for small businesses, but talent mapping can help a company select the best candidates for the role and provide additional training to close skill shortages. 
How to do Talent Mapping?
In this section, we will go over the specifics of talent mapping. We will explore how to determine which data sets require collection, how to conduct research, and how to identify the talent pool.
#1 Determine The Company's Goals and Talent Requirements
Before someone can begin mapping their talent, they must first define the kind of talent they need, with the help of the following questions:
What are the company's business objectives for the coming year? What are the prospects for the next three to five years?
What kind of talent is required to support these specific goals?
What skills will individuals require now and in the future?
What departments are lacking the most skills to meet their goals?
#2 Determine Hiring Requirements Based on Objectives
Companies should define their hiring needs after determining their objectives and goals. Do they need to hire more people or train their current employees? This is heavily dependent on a business's specific objectives, such as aggressive expansion, technical expertise, and products, services, or marketplaces.
#3 Establish Data points for the Talent Map
After the skills a company requires have been identified, the next step is to define the data points to populate the talent map. These will vary depending on a company's goals and talent requirements, but descriptions, employee feedback, and competitive analysis are some of the most important data points for talent mapping.
#4 Assess Employees' Abilities
Skills tests are among the most appropriate methods of assessing employees' abilities. They provide objective metrics for each skill, allowing individuals to compare teams and see where they need to put more effort to boost performance and productivity. 
#5 Examine the Motivation and Performance of Employees
An organization must assess its employees' performance in relation to their potential. It is critical to determine whether any employees are underperforming and if so, they must determine why. Companies most likely have a lot of the information they need for this assessment. For example, they can examine quarterly and annual performance reviews for employees and meet with team managers to discuss results.
#6 Establish Benchmarks
Next, individuals must define success in all roles for which they want to hire or promote internal candidates. This will assist them in establishing specific standards that employees must meet in order to achieve their goals.
Companies can use these standards as success measurements in talent mapping. Not everyone needs to be an expert in every skill; for some roles, it makes sense to have a diverse set of soft skills, whereas others require highly developed and specialized skills.
#7 Investigate Competitors' Talent Strategies
To stay ahead of the competition, a company must have a crystal clear vision of its mission. Individuals can develop a better strategy for acquiring and retaining talented employees by understanding their competitors' talent strategies.
#8 Prepare a Job Description and Strategic Plan
The job description will depend on whether the company will be hiring internally or externally. The right talent-management strategy should include a skill plan, a competency plan, and a talent-retention plan.
Final Thoughts
Talent mapping is a continuous process and should be a part of every company's corporate strategy cycle. It should also be evaluated on a quarterly basis for effectiveness. Talent mapping will only continue surging in importance in today's competitive world. 
Furthermore, recruiting is evolving as organizational needs and job seekers' priorities are shifting. The human resources departments of companies must constantly upgrade their hiring practices to align with their business objectives in light of trends such as the Great Resignation and remote work. In these transformations, talent mapping is critical.
As a company grows, it's critical to revisit and revise its plans regularly. When done correctly, the right people in the right roles will build and reinforce the company's vision while creating leaders along the way who can strengthen business strategy and empower growth.
FAQs on Talent Mapping
How can one define the term talent mapping?
It is a process that helps determine future talent needs, assess the effectiveness of current employees to meet those needs, source the right human resources for future recruitment, and develop a corporate strategic plan to fill identified competence and talent gaps.
What are the advantages of putting in place a talent mapping program?
A talent mapping program can encourage an employee to realize their full potential. It can also give a company preemptive insights that can help them respond to issues, expand into new markets, and maintain a competitive edge.
What makes talent management different from talent acquisition?
Talent acquisition is concerned with processes that help companies hire top talent. On the other hand, talent management is focused on ensuring that a newly acquired talent is given the resources they need for increased business expansion. It is also concerned with boosting employee productivity and efficiency.
What challenges do companies face while mapping talent?
Talent mapping in recruitment is not always straightforward. Most organizations face challenges such as recruiting the best talent, ensuring compliance, lowering employee turnover, and revamping their hiring process.
What role does talent mapping play in the development and maintenance of a company's culture?
A company's growth is fostered when talent mapping is done correctly and employees feel encouraged to deliver the real results required to execute a business plan.