It is a known fact that technology is an incredible tool and has made the world a global village. It has connected people and created jobs all over the world. 
It has become easier for recruiters to find talent through various social media platforms and other professional communities. Candidates, on the other hand, don't mind taking up job opportunities in different parts of the world due to the lucrative benefits and/or uniqueness and demand of the job role.
Recent times have made the usage of technology necessary as well as beneficial for recruiters. Many organizations have adopted automated talent acquisition systems (TAS) to make their recruitment process effortless and efficient.  There was a poll conducted that showed 86% of organizations are now i.e because of the COVID-19 epidemic, using virtual technology to interview candidates. 
These systems and tools automate several aspects of recruitment, thereby reducing administrative tasks for the recruiters. 
The talent acquisition process contains these main stages:
Sourcing and lead generation
Attracting candidates
Scheduling
Pre-employment assessment
Interviewing
Reference checks
Selection
Hiring and onboarding 
Depending on the organization, technology is used at various stages of recruitment. The most important and convenient feature of automation is timely communication with potential candidates. Subsequently, video interviewing is used in pre-employment assessment and interviewing for skills. 
What are the benefits of video interviewing?
While conventional recruiters may frown upon such tools since they prefer personal interaction with candidates.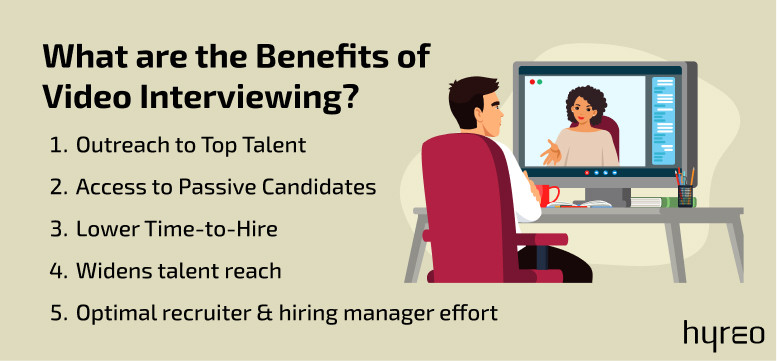 Video interviewing surely adds a lot of value in the following ways:
#1 Outreach to Top Talent 
It provides a larger outreach to skilled candidates across the world. If the organization offers remote working, connecting with potential talent and hiring them becomes easier with video interviewing. 
Studies have shown that 60% of HR managers do not mind using or have used some type of video interviewing solution.  
#2 Access to Passive Candidates
It offers a convenient way of communicating with passive candidates. Since passive candidates are just 'browsing' jobs, they may not be keen on investing time in personal meetings. This is when connecting over a video conversation helps. 
#3 Establish a personal connection with candidates
It may not be as personal as a face-to-face interview, but it is better than a telephonic interview. Interviewers will still get an opportunity to 'observe' a candidate and evaluate aspects such as confidence and body language. 
#4 Lower Time-to-Hire
It reduces waiting time for candidates. Often, when candidates are invited for a personal interview, schedules are delayed due to a recruiter's workload, spillover of interviews, and ad-hoc tasks that creep up on them suddenly. Longer waiting times for interviews have been a dissuading factor for candidates while considering a job opportunity.
Video interviews can be scheduled at the interviewer's convenience and constant reminders are sent to the recruiters to adhere to their schedules. Some TAS has a feature where candidates can choose a meeting slot from the recruiter's available schedule.  
#5 Widens talent reach 
It helps in keeping qualified non-local candidates in the hiring pool by allowing consistent engagement and communication with them. 
#6 Optimal recruiter & hiring manager effort 
Some video interviewing software has the feature of pre-set or recorded questions that candidates can answer at their convenience. The recorded responses can be reviewed by the team of interviewers and share their collaborative scores and feedback.  
5 Video Interviewing Software Selection Criteria
Adopting any video interviewing software will need investment from the organization. Needless to say, there is a financial investment. But there is also an investment of time and effort in adapting to a newer (yet efficient in the long run) process.
Migrating to a new system from a legacy system takes a lot of planning and learning through training and trial & error.  
Often, these challenges make the recruiters resistant to trying out newer tools. However, considering some important criteria while selecting any video interviewing software can help:
#1 Ease of migration from a legacy system
Whether the recruitment process is manual or through any TAS, ease in migrating data into the new system improves the chances of adoption of any new software. 
#2 User-friendly interface
It is very important for new users to find obvious features, visible buttons, and accessible directions to navigate within the system. 
#3 Usability
When the software is implemented, the ease of using the system on an everyday basis is significant. This includes entering data, customizing fields, and downloading data and reports.   
#4 Integrations
The newer system must have the ability to be integrated with other platforms, processes, and existing software. The flow of data between these systems will reduce time and effort for recruiters.
#5 Value for Money
The available features and all the above-mentioned criteria will determine if a new software gives the organization a high Return on Investment. Many TAS allows the calculation of RoI for the management to determine the value of the software.
Top 10 Best Video Interview Platforms or Software
So what are the criteria to look for when it comes to choosing a video interview platform?  There are many platforms available, however, each with its own unique selling point. Ease of use for the interviewer and the candidate, customization, cost, mobile-friendly, etc. may just be a few of them to list. Here's a list of the best video interview platforms to choose from. 
#1 Willo
The premise of Willo is to ease the hiring process. It is said to be an asynchronous platform that is built for bulk hiring.   It offers various plans and is scalable to suit the recruiter's needs. 
Key features:
Customizable look and feel of the platform
Has a question generator to create questions for candidates
Is developer-friendly
Can integrate with an existing ATS and CRM or be used as a standalone video interview platform 
Has over 3,000+ third-party integrations
Pricing:
Offers a free trial and a free version (10 people per month)
Has monthly and annual subscription plans
The starter kit is for businesses (1-49 employees) and up to 3 users cost $387 per year
The growth plan is for businesses (50-249 employees) and up to 15 users cost $1547 per year
The scale plan is for businesses (250 or more employees) and unlimited users cost $5747 per year
Read – Best Software for Post Offer Candidate Engagement
#2 Jobma
It is a cloud-based video interviewing solution. Its platform is said to have a range of interview formats including pre-recorded and live interviews, audio interviews, and digital assessments. 
Key features:
Available in multiple languages
Has a native mobile app
Has a video resume feature
Introductory video about the employer for branding 
Can upload custom interview questions 
Pricing:
No free version 
Starting price is $50 per month
Custom quote for enterprise clients
#3 Hireflix
It is a simple platform with an extremely user-friendly interface. It is the leading software in the one-way interviewing space. It also lets you implement automated communications via email, SMS, Whatsapp, and allows integration with other software. 
Key features:
Accessible through any device or browser without registration or log-in
Easy deployment
Supports more than 20 languages 
Great features for one-way interviewing  
Integrated with 3000+ apps
Automatic Video Transcriptions
Pricing:
Offers a 1-month free trial 
Has monthly and annual subscription plans
Subscription for small companies (less than 50 employees) costs $900 per year
Subscription for medium companies (50 to 250 employees) costs $1800 annually
Custom quotes for high-volume hiring and corporate clients. 
Check – Best 8 Remote Employee Onboarding Platforms
#4 Hirevue
It is said to be a top video interviewing software and has an AI-powered on-demand interview feature. It also helps in screening bulk candidates in a short time frame. 
Key features:
A virtual assistant to screen many candidates in a short time
On-demand interviewing feature
Change the speed of the interview while watching
More than 1,000 job-specific interview guides
Available in more than 41 languages
Has great customer support
Pricing:
No free trial or free version
Has two pricing plans
The essentials package (2500-7500 employees) starts at $35,000 per month 
Enterprise package (over 7500 employees) has custom pricing
#5 Spark Hire
It offers process optimization and speeds up the candidate screening process by 5 times.
Key features:
The customer base of over 6000 companies
Gaining candidate insight 
Built-in interview scheduling tool
Customizable branding features along with a photo gallery and company welcome videos
Analytics dashboard for users to filter charts and tables
Pricing:
Offers free trial
Has four pricing plans 
Lite subscription (1 job, 3 users) costs $149 per month 
Pro subscription (5 jobs, 5 users) costs $299 per month 
Growth subscription (10 jobs, 6+ users) costs $499 per month 
Enterprise subscriptions have custom pricing.
Check – Top 7 Resume Screening Softwares in 2023
#7 VidCruiter
It has a robust solution for both live and pre-recorded video interviews, as well as for applicant tracking, virtual event hosting, applicant assessment, etc. 
Key features:
Purchase necessary modules individually or the entire suite
Supports mobile recruiting
Conversion metrics of targeted ad campaigns
Supports multiple languages for both candidates and recruiters
Offers digital interview guides
Pricing:
Custom pricing depending on hiring frequency
#8 Brazen
It is an easy-to-use virtual career fair and online hiring platform. It's a good platform for networking. If there are multiple booths, attendees can switch booths, talk, chat, and confer with others. 
Key features:
Live video broadcasts/webinars
One-on-one text and video chats
Event promotion
Recruiting chatbots
Detailed dashboards and analytics through every event
Pricing:
No free trials or version
Custom pricing 
Check – 5 Best HRMS for Small Businessess
#9 myInterview
 It uses purpose-built machine learning algorithms that help to custom-pick candidates. Candidates can send video applications and post the interview, the acquisition team can share notes and grade them as well. 
Key features:
Accurate skill assessment analytics
Screening features not only based on skills but also on personality
Collaborative interviewing 
Compare candidates by adding instant ratings
Offers a branded, customized interview process
Library of pre-recorded questions
Pricing:
Has five pricing plans 
Starter free subscription (1 job, 2 users) and 10 one-way interviews per month
Growth subscription (2 jobs, 5 users) and 360 one-way interviews per year costs $59 per month 
Team subscription (5 jobs, unlimited users) and 1200 one-way and 120 live interviews per year costs $179 per month 
Performance subscription (20 jobs, unlimited users) and 6000 one-way and 360 live interviews per year costs $359 per month 
Enterprise subscriptions have custom pricing.
#10 CodeSignal
It offers actual results and coding with the advanced development environment. This platform also helps recruiters manage large volumes of applications, and helps with feedback in real-time. 
Key features:
Advanced IDE for technical interviews using live collaboration 
Realistic coding environment 
Engaging user interface
Communicate with candidates collaboratively through audio and video calling. 
Flight simulators for developers in a hyper-realistic development environment
Interactive preview
Pricing:
Pricing is available on request
Check – 10 Best Performance Management Software
#11 Avature
It offers an intuitive user experience and global scaling for all stakeholders. The software comes with ATS features, as well as video interviewing, employee onboarding, and management features. 
Key features:
Mobile-optimized, branded, and customizable 
Easy-to-use dashboard 
Powerful drag-and-drop builder
Flexible scheduling capabilities
Supports offline use and syncing 
Pricing:
No free trial or version
Pricing is custom and available on request
Apart from the mentioned video conferencing tools are the widely used Zoom and Skype, which are probably used by businesses that are not equipped to implement automation into their existing recruitment process.
If you liked any of the above tools then you should also look for these important features in video interview software before making a decision.
5 Important Features of Video Interview Software
Depending on how and at what stage recruiters use the software, they can consider some important features:
#1 Scheduling 
Setting up interview schedules takes up a lot of a recruiter's time. During bulk hiring, this feature becomes very crucial for the efficiency of the recruitment process. Through the platform, interviewers can streamline schedules between several interviewers, review candidate responses and score collaboratively. Thus there is visibility in the hiring process.  
#2 One-way or two-way Video Interviews
One-way video (asynchronous) interviews are used in the pre-employment testing phase.  In these interviews, interested candidates must log in to an application and they will be given specific instructions to set up the one-way interview. 
Candidates are given a set of questions and are expected to record their responses within a limited amount of time on the platform itself. Most employers expect candidates to prepare themselves before recording their answers whereas very few allow re-recording of responses. 
The advantage of one-way interviews is that recruiters can schedule many interviews at the same time and review the recorded responses later.
Two-way video interviews are a conversation between the recruiter and the candidate. Some software has an inbuilt feature while others have integrations with video conferencing tools and apps 
#3 Written and recorded questions
The software must have provisions to input pre-set questions that help in screening candidates in a one-way interview. These questions can be written or recorded and uploaded on the platform for the candidates to access them. 
#4 Time Control
Time limits can be set for candidates for their video responses. Many platforms ask candidates to upload video resumes, which are typically 60-90 secs long.
#5 Easy Set-up and Integration
This is not only important for the recruiters but also for the candidates. Candidates must be able to access the tool through various browsers or devices. Integration of the video interviewing aspect with other features such as skill-matching and communication makes the screening process easy.
Wrap up
Video interviewing offers a great deal of flexibility in scheduling, reviewing candidate responses, and selection. This reduces time-to-hire and effort invested by recruiters in administrative tasks. 
Outreach and engagement with potential candidates can be consistent and easier. Candidates' responses can be reviewed by interviewers at their convenience and collaboratively scored for better data-driven selections.   
Video interviewing tools also give the employer an inkling of the candidate's command over technology, communication, interpersonal skills, and confidence. They put the candidate at ease since they can attend interviews in the comfort of their own space. 
These platforms also represent your brand as innovative and open to technology. With the ever-dynamic evolution, as Godfrey Reggio, a director of experimental documentary films rightly said, 'it is not that we use technology, we live technology.    
FAQs on Video Interviewing Platforms 
What is a video interview platform?
The 2 kinds of online interviews can be defined as:
· Two-way or Live interview is the regular virtual interview, with the interviewer or a panel of interviewers conducting a face-to-face, albeit virtual, interview of the prospective candidate. At the end of the interview, the candidate is evaluated based on the key role criteria and a decision taken to proceed further or reject. 
· One-way or recorded interview with pre-selected questions that are selected by the interviewer ahead. Here each interviewee has to record their responses at their convenience and share them with the interviewer. This saves a lot of time and effort for the interviewer as well as brings objectivity to the interview as the same video can be viewed and evaluated by other panelists ensuring no bias in the selection process. 
What are the top 5 virtual interview best practices?
With virtual interviews becoming the norm in the post-pandemic world, there are a few things to be taken care of to ensure a great virtual interview experience:
1.       A stable internet connection with adequate bandwidth for good-quality video
2.       Ensuring eye contact with positive body language 
3.       Taking the interview in a well-lit and clean environment with no distractions or interruptions
4.       Dressed appropriately, preferably in professional attire 
5.       Using a professional background, in case of lack of an appropriate interview area 
 
What are the top 5 mistakes to avoid during a virtual interview?
1.       Not being prepared for the interview
2.       Taking the interview in an unclean and messy environment
3.       Using an unprofessional background for the interview
4.       Being dressed casually or in semi-formal attire, not adhering to the dress code of the interviewer
5.       Not making eye contact and staring off into space
 
What are 5 red flags for employers to look for in interviews?
Listed below are 5 red flags that employers should watch out for when conducting interviews:
1.       Frequent rescheduling of the interviews and other meetings with recruiters & hiring managers 
2.       Being very vague when responding to direct questions on projects, programs & initiatives they claim to have led in their resume/profile 
3.       Being disrespectful during interviews (inappropriate responses or comments)
4.       Contradiction and lack of consistency in responses 
5.       Conflict or lack of alignment with company values