Most organizations have their own way of storing internal as well as external data. The most widely used method is always going to be the physical filing system, where you can color code, add tags, bifurcate as per departments, etc. However, this system does not always work well all the time as it takes up too much space and tends to clutter things up. 
A good Human Resource Management System (HRMS) software can help with this issue and deal with many more. HRMS Software helps you to manage HR-related information and related activities. It allows you to record, store and retrieve data on employees, job applicants, job offers made by a company, etc.
Many HRMS software are available in the market today, but some are more popular than others. Choosing HRMS software should not be a difficult task, provided you know what you are looking for. 
How Best HRMS Software Are Compared
When choosing the best HRMS system, there are several factors that you should consider.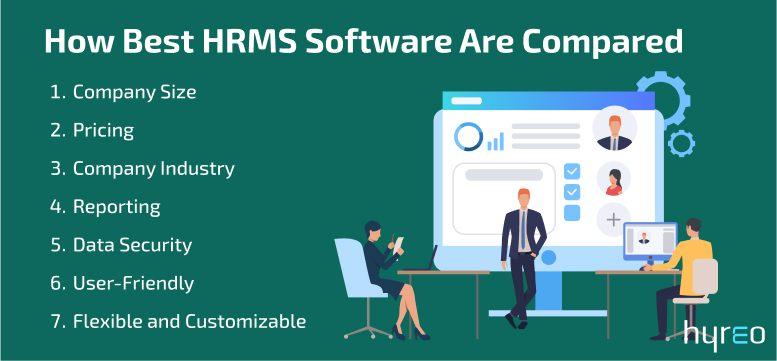 These include:
#1 Company Size
You will need to choose an HRMS tool that will suit the size of your company. Larger companies will probably have more resources and employees who can help implement their chosen software solution and train staff members in its use. Smaller businesses may also struggle to try to find enough experts within their workforce who understand all aspects of such systems (e.g., finance). Based on the number of people you employ, the requirements, and the end goal, you will need to consider HRMS software. 
#2 Pricing
The cost of the HRMS software is also a deciding factor when you are choosing HRMS software. You will need to ask how much your company can afford and is willing to spend on a new HRMS. Suppose the budget isn't available for an expensive solution. In that case, looking at cheaper alternatives, like an open-source software package or even embedding the applications into your existing systems, may be necessary.
#3 Company Industry
In general terms, companies in the same industry will probably have similar needs regarding software solutions. For instance, if you are a construction company and need an accounting solution to help manage your finances as well as the inventory of raw materials, then you may want to look for one specifically designed for construction businesses.
#4 Reporting
Your chosen software should be able to generate various reports based on whatever performance data is most important to you and your organization. Reporting can be done through various methods, including email, web browser, or mobile app.
#5 Data Security
You want to make sure your data is safe and secure at all times. Good software will have the appropriate security protocols to prevent unauthorized access and data leaks.
#6 User-Friendly
You want software that is easy to use, whether you are an employee or manager. It should be intuitive, so anyone can pick it up and start working with it immediately.
#7 Flexible and Customizable
You want software that can be customized to meet your organization's needs. It should have an API so you can integrate it with other systems and make it work with whatever tools are already in place at your company.
Features To Look For In HRMS Systems
HR systems are software programs that enable businesses to manage their staff and employees. The basic functions include time and attendance, payroll, employee directory, and recruitment. Let's look at these features in a little more detail: 
#1 Time & Attendance Features
The time and attendance system is used to track employee hours and attendance. You can set up rules for how often an employee must punch in or out and what happens if they forget to do so. You can also use the system to generate reports on how many hours your employees have worked each day, week, or month.
#2 Analytics Features
Analytics features allow you to measure your company's performance and make data-driven decisions. These systems can track sales data, employee attendance records, HR information, and much more. They also give you access to reports that show the breakdown of your workforce by age, gender, or even ethnicity.
#3 Onboarding/Employee Self-Service Tools
These allow employees or recruits onboard quickly without having access to any other systems in the company. This can be useful when you want to train new hires before allowing them into the workplace more fully or only have limited training time available because they're starting their first job with you!
#4 Compliance Features
These tools help you ensure that your company complies with all the relevant employment laws. This can be useful if you have a lot of global offices, as it's often difficult to keep up with all the regulations in different areas.
#5 Learning & Development Features
These are tools that help you keep track of employee progress and development. This can be useful if your employees have an open-ended career path or want to ensure they're getting the appropriate training for their roles.
#6 Payroll Solutions
These are tools that help you accurately track and pay your employees. This can be useful if you want to ensure that your payroll is accurate and timely, especially in the case of international offices where local rules may apply.
7 Best HRMS Software
#1 Monday.com
Monday.com is a cloud-based HRMS software that helps you manage your company's talent and payroll. It is available as a SaaS solution, so you don't have to worry about installing it on your servers. The interface is clean and intuitive, making it easy to use even if you're unfamiliar with HR systems or the jargon used in this industry.
Features:
Manage your employees and their performance
Create flexible pay structures for hourly workers
Purchase benefits like health insurance or 401K programs with ease
Integrated payroll features (payroll system)
Online portal for benefits management, employee tracking, and more
| | |
| --- | --- |
| Pros | Cons |
| Easy-to-use interface | Some features and functions can only be used in the enterprise package |
| 14-day free trial | The features of an app may differ from those on a website |
| Enterprise-grade security with HIPAA certification |   |
| Customizable reports and dashboards |   |
Pricing: From $10 per employee per month
#2 Paycor
Paycor is a cloud-based HR software solution that helps you automate your HR processes. Its professionals use it to manage employee data, benefits, and payroll. You can use it to manage time-off tracking, vacation planning, and more.
Features:
Payroll management Employee self-service portal
Time and attendance tracking
Benefits administration Integrated HR software
HR and payroll software
Cloud-based benefits management
Time off tracking and calendar management
| | |
| --- | --- |
| Pros | Cons |
| Free demo available | May not be the best choice for smaller organizations |
| Easy-to-use, intuitive interface | The basic package has limited payroll features |
| Offers HR solutions designed especially for specific industries |   |
| Modular design makes it easy to customize |   |
Pricing: From $99 per month + $5 per employee per month
#3 Rippling
Rippling is a cloud-based HR software used by small and medium-sized businesses. It helps companies manage employees, payroll, benefits, and compliance.
Rippling integrates with other software, including QuickBooks, Salesforce, and Slack, so you can do everything from one place. The system also allows you to track time off and attendance tracking for up to 500 employees at once (or up to 5 users if they're sharing an account).
Features:
HR management software
Payroll management software
Time off tracking and calendar management
Risk mitigation for employers
Accessible anytime and anywhere via the web or through an app
Time off tracking with automated notifications and approval workflow
Attendance tracking with automatic time entries
| | |
| --- | --- |
| Pros | Cons |
| Free demo available | Can be a bit clunky at times |
| Precise control on information-sharing | User experience can be better |
| Robust data collection |   |
| Offers workforce analytics |   |
Pricing: Available on request
#4 BambooHR
BambooHR is a cloud-based HRMS software that helps businesses manage their employees, payroll, and benefits. It's a good fit for companies looking for an affordable HR solution. BambooHR offers a free trial of its service, which you can use until 60 days from the date of registration or renewal. This allows you to test out its features without paying anything upfront.
Features:
Automatically generate reports for payroll, budgeting, and more
Create customized forms to collect information from employees or job applicants
HRMS software helps businesses manage their employees, payroll, and benefits
Free trial of its service, which you can use until 60 days from the date of registration or renewal
| | |
| --- | --- |
| Pros | Cons |
| Easily track employee time, attendance, and leave requests | Could have more announcement options |
| Ideal for small and medium-sized businesses |   |
| Free trial |   |
| eNPS Employee Satisfaction tool |   |
Pricing: Available on request
#5 Gusto
Gusto is a cloud-based HR and Payroll software ideal for small businesses. It offers payroll, benefits, and HR tools in one package. The interface is easy to navigate and has an intuitive design that makes it easy to use even if you're not familiar with the ins and outs of payroll software.
Gusto is affordable. And because it's hosted by Gusto's parent company, Zenefits (which also owns Workday), you know they've got great customer service behind every line of code.
Features:
Integrations with third-party apps and software
Customizable invoices (including the ability to send them via email)
A free payroll app for iPhone and Android devices
Cloud-hosted (so no software installation or maintenance) and affordable
Simple setup for new hires—just enter their name and email address!
| | |
| --- | --- |
| Pros | Cons |
| One solution that works on any device, from desktop to mobile | Customer service can be improved |
| No registration or corporate email address is needed to sign up | Some users experience dashboard glitches |
| A great user experience, intuitive interface |   |
| Helps you manage payroll, benefits, and HR in one place |   |
Pricing: From $40 per month + $6 per employee per month
#6 Deel
Deel is a cloud-based HRMS system that can be accessed from any device. It's a cost-effective option for businesses of all sizes, and it's great for companies looking to outsource their HR department. 
Deel stands out as one of the best options for businesses that need an easy way to track employee time off, attendance records, and other data related to employee benefits packages.
Features:
Online time management tool
A biweekly report generator
An online employee self-service portal
Management of employee time records and attendance.
An online system that allows users to create and track their own training schedules
| | |
| --- | --- |
| Pros | Cons |
| Free trial is available | Can be expensive for small and medium-sized businesses |
| Excellent support team  |   |
| User-friendly and straightforward |   |
| Various currency support |   |
Pricing: From $49.00 per contractor per month
#7 Connecteam
Connecteam is a cloud-based software that allows you to manage your employees, vendors, and customers. It's an all-in-one HRMS software that includes all the features you need for running your business.
Connecteam helps businesses keep track of employee data, including payroll, benefits administration, and employee relations management. It also supports HR processes such as recruitment or training plans.
Features:
Online chat feature for employees and HR teams to communicate via real-time messaging
A mobile app that allows you to manage your business anytime, anywhere
24/7 access to HR teams through online chat
Generates reports based on any specific requirement
| | |
| --- | --- |
| Pros | Cons |
| Affordable, easy to install, and navigate | Too many features are crammed together |
| Great for small businesses | Some basic features can be accessed only in the premium version |
| Ideal for work-from-home employees |   |
| Customize according to company goals |   |
Pricing: Free for up to 10 users. From $29.00 per 30 employees per month.
Wrap Up
With all of the HRMS software out there, it can be difficult to choose which one will work best for your company. However, we hope that this list has given you some insight into what makes each of these different types unique.
FAQs on HRMS Software 
Are there different types of HRMS systems?
HRMS systems are classified as ERP, CRM, and HRMS. ERP systems are used for business operations, and CRM systems are used for customer relationships. HRMS is a combination of both the two mentioned above but makes it easier for users to manage their human resources effectively.
What is the difference between HRMS and ERP?
HRMS is a subset of ERP. ERP stands for Enterprise Resource Planning, and it's used to manage all the business processes that make up your company. 
It includes everything from finance to human resources and more. HRMS software uses this type of software to help you manage employees, assign tasks, and track hours worked and benefits received by employees. You can also manage other administrative tasks related to employee performance management or compensation plans.
What is the difference between HRMS software and HRIS software?
There are a few key differences between HRMS software and HRIS software.
HRMS stands for human resource management system, while HRI stands for human resources information system. Both types of systems handle employee data and payroll, but they do so in different ways.
HRMS focuses on employee management, while HRI focuses on processes related to human resources (HR). This difference can be subtle or major; some companies use an integrated system that handles both activities at once, while others have separate systems dedicated solely to each function.