In a recent survey conducted by a research and review platform, it was found that 67 percent of recruiters found that professionals hired through LinkedIn were of higher quality, compared to other job-seeking platforms. 
Here's another statistic for you. According to a study released by LinkedIn, as many as 101 applications are submitted using which, 8 individuals are hired every minute. 
These figures designate LinkedIn as one of the leading job-seeking and hiring platforms worldwide. So, unsurprisingly, when you think of 'recruitment', your mind might immediately go to LinkedIn. 
Although a place for jobs and recruitment, this US-based platform is slowly growing into a social media platform for professionals. As a recruiter, you not only create job postings and look for ideal candidates, but also create a reliable personality for others to connect with and follow. 
In simple words, LinkedIn is not a stereotypical hiring platform but goes ways beyond. So, you need to employ the right strategies for seeking high-quality candidates. 
6 Benefits of using LinkedIn for Recruitment 
One of the most frequently asked questions is how you can leverage LinkedIn for recruitment. Also, why should you use LinkedIn for recruitment? Which characteristics make LinkedIn stand out in comparison to its competition?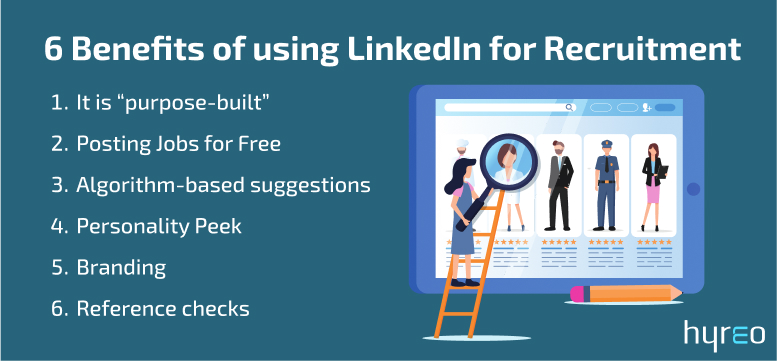 Here are some points to help you answer that question – 
#1 It is "purpose-built" 
LinkedIn's main aim has always been to help professionals connect with others belonging to the same or different industries. This 'premise' of LinkedIn is that it is used for professional networking. They also work on the ethos that it gives its users a platform for career development. This would be done by making connections. 
As a recruiter, if you connect with people on LinkedIn, there is a high chance of you coming in contact with the ideal candidate. Or someone who knows a person who can fit your requirements. This can be either through common connections or by building your network. It is also another way of searching for a qualified candidate, in addition to posting a job on the platform.
Additionally, it is always beneficial to create a network of people for prospective candidate requirements. If the requirement ever arises, you can directly reach out to them instead of sieving through hundreds of applications. 
#2 Posting Jobs for Free
With most recruiting sites, you would be required to pay a fee to post jobs. This is not the case with LinkedIn. If you are wondering how to source candidates on LinkedIn for free, it is a 5-step process. 
Once you log in, all you will be required to do is describe the job role, mention the skills that are required, add screening questions, and post the job. 
By leveraging this feature, you can attract potential as well as passive candidates. 
#3 Algorithm-based suggestions
LinkedIn's algorithm allows you to get specific profile recommendations based on the job you have posted or based on the people you have hired in the past. This means you can find candidates based on similar profiles, similar job skills, or even through suggested profiles. 
This is only possible with LinkedIn's algorithm that is attuned to your activity on your recruiter page. Even while you are using LinkedIn to post jobs for free, this feature can help in attracting prospective candidates. Also, one thing to remember is that the more you use LinkedIn, and with higher frequency, the chances of finding the ideal candidate in a short time frame are possible.
#4 Personality Peek
On LinkedIn, each individual has to create an active presence to come in contact with relevant industry professionals. In other words, the more you put yourself out there, the higher the chances of others discovering you. This is what you can call "self-branding". 
As a recruiter, this branding can help you gauge a candidate's personality. For instance, you wish to hire a 'finance content writer'. You either create a job posting or search this keyword on LinkedIn. Both options can lead you to potential candidates, However, to narrow down the list, you can view their profile and experience (instead of downloading their CV), see their posts, featured articles, etc to get a sense of their writing style. 
In simple terms, you can use their LinkedIn personality as a factor to shortlist the list of candidates qualified for the interview process. This feature is only possible with LinkedIn. 
#5 Branding 
It has often been iterated that branding your organization is often the first step to finding potential talent. One of the biggest benefits LinkedIn offers recruiters is a platform for branding their company image as well as their ethics, among peers. 
Posting about the latest developments, and activities as well as using the platform for employee engagement as well as recognizing their talent helps in creating a talent pool, especially in the long run. 
#6 Reference checks
Though there are multiple reference check tools available, LinkedIn's recommendation features can give you an idea as to how the candidate really performed in his/her organization. Recommendations from colleagues, bosses as well as friends give an insight into the candidate's nature in a nutshell. 
6 Recruitment Strategies with LinkedIn 
After knowing why you, as a recruiter, should give LinkedIn a try for hiring the right talent, it is time to discuss some recruitment strategies and best practices to follow. Here are a few LinkedIn recruiter sourcing tips: 
#1 Posting the job in relevant groups 
In addition to connections, LinkedIn also works on the basis of groups. These groups contain people with similar interests, job requirements, candidate requirements, etc. As a recruiter, you can join such groups and post your job there, if permitted by the administrator. Make sure to add contact details like email ID or phone number along with requirements like a resume, work samples, etc. So that interested candidates can reach out to you as soon as possible. 
#2 Create and maintain your company's culture page 
As a candidate willing to join an organization, he/she is bound to search the company's LinkedIn page. This will help to provide an overview of the kind of culture and atmosphere present in the firm if it has been featured in media or press, any mutual connections present, etc. Such transparency is likely to create a willingness among candidates to join that company. Hence, to hire the best talent through LinkedIn, try to maintain the company's culture page. You can post employee testimonials, milestones achieved, awards and achievements, etc. 
#3 Paid Posts
One of the best features of LinkedIn is that you can post a job for free. However, it is for a limited time and may not reach the necessary target audience. It also has a paid version that runs on a "pay-per-click" model wherein, you pay only when a potential candidate views your listing.

So, after you are done filling in the employment details, you can set a daily budget (in USD). However, if you enable the "keep my job open till I close it" option, the charges will exceed your budget. So, before submitting the job posting, make sure to choose the right budgeting option. 
#4 Enable the "Easy Apply" option 
When a candidate joins LinkedIn, he/she is expected to provide basic details. You also have the choice of uploading your CV on your profile. This CV can then be used directly while applying for various job postings. 
But here's the catch – this can be done only if a recruiter has enabled the 'easy apply' option. Interestingly, enabling this option can attract more candidates to apply for the job. Why? Because this process is much simpler than getting redirected to the company's website, filling in the details, and uploading the resume again. 
Another interesting point to note is that LinkedIn specifically highlights the 'easy apply' option when you search for job postings under a specific role. The platform's intent, however, remains the same – attracting more candidates. Hence, this is an effective strategy to use in case you're on a tight deadline to fill up the position. 
#5 InMail for passive candidates: 
Though not every connection or member on LinkedIn is looking for a job change, you can still look out for passive candidates. It has been stated that at least 70% of the users on LinkedIn are passive candidates. 
Even though they are not 'in-the-market for a job change' branding your company and stating the efforts of the organization can help you find the right person. It's about defining the role in an optimum way while creating a virtual scenario about the company itself. 
LinkedIn's Recruiter InMail can be the apt way to reach these candidates as you can message them privately, through direct messages, free from the prying eyes of the connections.  
#6 Keyword Search
In the digital world, it's all about the right words. Most candidate searches are based on keywords. If you are creating a recruitment strategy and looking for recruiting candidates on LinkedIn, you should formulate your recruitment advertisement with the right keywords. 
Though candidates would prefer to know that there is a job opening in a company by visiting their webpage, they also use keywords to find out about a particular position in similar organizations. 
Wrap Up
In addition to the best recruitment strategies for LinkedIn, there is a key tip to remember – always be an active and responsive recruiter. Many a time, recruiters tend to keep the job posting open indefinitely despite the position getting filled. This creates unnecessary hope among candidates and unnecessarily increases your LinkedIn charges as well. If you actively track your job posting, you can skim through candidates quickly and hire the right talent. At the end of the day, you need quality and not quantity in your job applications.
FAQs on Recruitment with LinkedIn
How can you use LinkedIn effectively as a recruiter?
As a recruiter, you can use LinkedIn effectively by –
– Creating an authentic and unique brand for your company/employer
– Deciding a budget and posting jobs on the platform 
– Using the InMail feature to directly target potential candidates
– Joining recruitment groups and adding your job posting, if permitted 
– Enabling the 'Easy Apply' option on LinkedIn
Which is the best LinkedIn plan for recruiters?
'LinkedIn Recruiter' is a specialized plan, consisting of recruiter-friendly features to help you prioritize the most suitable candidates and directly get in touch with them. In case you receive a lot of applications, this plan can help you manage and track the most relevant ones thus, making hiring easier and more efficient.
Is LinkedIn a useful recruitment platform?
LinkedIn has been ranked as one of the leading hiring and recruitment platforms across the world. It enables you to create a brand personality for your company, find and connect with potential candidates and hire them at your pace. With a specialized "LinkedIn Recruiter" plan, you can list your job quickly on the platform. A mail will then be sent to appropriate candidates, notifying them of your company's openings.
How can recruiters leverage LinkedIn to acquire the right talent?
To attract high-quality talent to your company, recruiters need to create a brand personality for their employer. As a recruiter, you can do so by – 
– Creating and actively maintaining your company/employer's page 
– Posting insightful content daily 
– Sharing employee testimonials
– Publicizing media coverage, milestones, and awards 
What are the 3 C's of typical recruitment?
The three important C's of recruitment are communication, clarity, and closure. Of course, all these components must be aligned with your employer's expectations.