Attracting top talent is essential to the future of any organization. In talent sourcing activities, developing a talent pipeline increases your chances of hiring the best candidates for future growth. The right candidate will mean lower employee turnover and great productivity.
Your recruitment team needs to know how to engage candidates, but they also need to streamline the process to target the right professionals for the position. And that's just one reason why a recruitment sourcing strategy is critical.
Often best job candidates are usually passive ones. This means they're not actively seeking a new position, leading them not cruising around the Internet browsing through online job advertisements. And since they're not looking at online job advertisements, you have to find them yourself. In building your talent pipeline, it's imperative to develop a full strategy in recruitment sourcing that targets the right candidates. Implementing the best sourcing strategies in recruitment is an integral part of acquiring top talent.
What is candidate sourcing?
This current job market is all about the candidates. That's because there is a severe shortage of qualified ones in many industries. Employers want them. Recruiters want them. Everybody wants them. But how can you find them? This is where a refined and creative recruitment sourcing strategy comes in handy.
Recruiting sourcing strategies are methods hiring managers use to search for and engage qualified candidates to fill current or upcoming positions they could be a great fit for. Building an effective recruiting sourcing strategy allows you to access a wide array of candidates, which can increase your chances of finding the right candidate for the role. In a recruiting sourcing strategy, managers can locate impressive candidates that could perform effectively in the role they're hiring for according to the company's specific hiring needs and role qualifications.
What does Talent Sourcing involve?
The five stages of talent sourcing are –
Identifying
Generating
Locating
Researching
Networking
Each part of the process is done in conjunction to determine, where the best candidate pipeline is for any particular job, thus the need of Recruitment Strategy in Talent Sourcing
It is important to note that recruiting and sourcing are not one and the same. Just as vendor management is part of procurement, sourcing is a part of recruitment – specifically, the first stage. Sourcing is the act of searching for candidates to fill either current positions or potential, future positions. Taking this first step requires thorough knowledge regarding what the position entails, specific metrics or qualifications to look for, and how to acquire top talent. 
It is important to have an established recruiting strategy as it helps hiring managers to attract quality candidates, target and find potential employees who match the company culture. A well-made recruiting strategy also strengthens your engagement with candidates in the hiring process. These candidates will make referrals to other qualified ones, who may be eager to apply, knowing about the smooth hiring process
12 Candidate Sourcing Strategies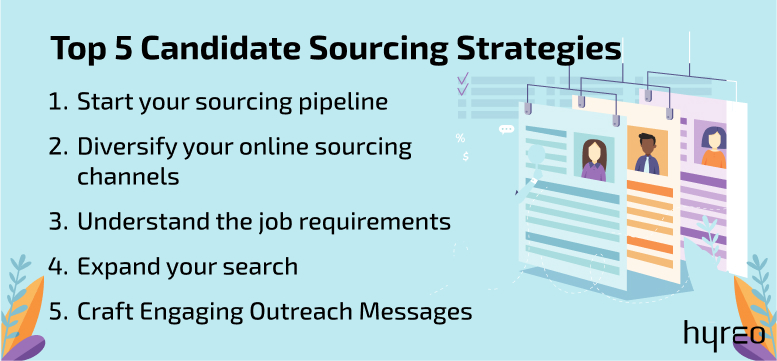 #1 Align with your hiring managers during the candidate sourcing process
Align with your hiring managers early and often to ensure that you're on the same page about what a strong candidate looks like. This is one of the best ways to source candidates. Don't stop at the kick-off meeting. Keep in constant contact with your hiring manager throughout the recruitment process to check on the quality and quantity of candidates, and fine-tune your search with their feedback.
#2 Start your sourcing pipeline
You should hopefully have captured these unsuccessful candidates' data on your applicant tracking system (ATS), candidate relationship management system (CRM) or a similar database when you processed them initially. This will be your sourcing pipeline.
Remember, you've already done the hard work to find and engage with these candidates, there is no need to repeat that work again.
#3 Add candidates to the pipeline
Always add potential candidates you source to your sourcing pipeline immediately by annotating them on your CRM or recruiting spreadsheet, you never know when they could become relevant.
#4 Diversify your online sourcing channels
Most recruiters have their go-to channels to find candidates. More than half, 52%, say they first turn to their professional network, and another 28% say they first turn to LinkedIn. Consider adding some other, less frequently used sources into the mix. Candidates may be more receptive to outreach messages on less conventional websites, and profiles on such sites can yield unique information that provides good fodder for personalized outreach.
The internet abounds with possibilities. The key is to understand your target candidates so you can better predict where to find them online. 
#5 Understand the job requirements
Before you start a new search, you should make sure that you understand every inch of the job requirements. If possible, have a quick chat with the relevant hiring manager to make sure you're on the same page.
You also need to ascertain if hiring managers would consider candidates that might not necessarily be working at the level you're hiring for but have the skills and capabilities to suggest they could step up and perform at a higher level. This widens your pool of candidates to source in.
#6 Expand your search
Keep modifying your search terms to source additional new candidates online. Broaden your search terms and expand your semantics – get beyond the people everyone else has found and uncover the rough gems hiding in the background.
Remember basic searches will turn up basic results. But even more frustratingly, every company uses different titles for the same role. So, when you're running a new search on social media or via a search engine, you need to make sure you've got all possible titles to hand before you start.
#7 Include offline recruitment methods
There's no doubt that online channels amplify your engagement. But offline recruitment methods are still a powerful force. Going offline and meeting people face-to-face at events is a great way to source new candidates.
Attend job or industry-specific conferences and events, or host your own meetups to bring together groups of people you'd like to meet. There will be less competition to stand out as an employer, and candidates will be more likely to respond to your follow-up messages after they've had a conversation with you in person.
#8 Track sourcing and recruiting metrics
Essentially, monitoring metrics allows you to build up a clear picture of where the top talent is hiding and how they like to be communicated with, meaning you can then optimize your approach to maximize your hiring success, saving you time and money.
Read this article to know some key recruiting metrics which will improve your hiring exercise.
#9 Employee referral Program
Referrals can be the top source for quality candidates.  Ask your employees for referrals, encourage them to refer candidates who qualify for your roles and consider working up an employee referral program as an incentive.
Employee referrals are known to reduce time-to-hire, improve quality of hire and increase retention rates, so reward your employees with the money you save. Referrals also bring in impressive candidates because they're people who your employees may have worked with before, which can make them confident that the employee will perform well in the role and will fit in with the company culture.
#10 Craft Engaging Outreach Messages
Well-written messages catered toward individual candidates is a great way to attract, engage and entice them to learn more about the role and company. Build a subject line that stands out to candidates and encourages them to open your message and learn more about the available opportunity.
#11 Use AI in sourcing
Source from databases that use artificial intelligence (AI). Usage of AI in recruiting and sourcing can have significant benefits.. Automated sourcing uses recruitment technology to find candidates online who fit the requirements of your role. This not only improves your efficiency metrics but decreases time to fill and cost per hire as well.
AI can find patterns in resumes and candidates who are better matches for a job's requirement, and reduce bias at the sourcing stage by removing the need for human decision making.
#12 Build your employer brand
Attract potential talent by marketing your company towards your target group. When you're working on company branding to attract customers, figure out employer branding too. Millennials are more inclined to work for and stay at a company they have an emotional connection with, so give them something to connect to.
Tools that helps in Sourcing Candidates
A recruitment tool is something that aids you in making the entire recruitment process easier, more streamlined and quicker. Here are Few Top Recruitment tools for Sourcing
ProofHub
Bamboo HR
Harver
Hirevue
Yello
Click Boarding
Vervoe
Final Word
Sourcing strategies in recruitment are like snowflakes: no two are exactly alike because what your organization requires will be significantly different to what someone else wants.
Some companies rely heavily on recruiters, while others don't. Some rely on online job boards, whereas some take an individual approach. Just figure out what sourcing strategy works for you early on, measure it and see where you can improve to get even better results. A sourcing strategy in recruitment is only as good as the last employee who was hired.
FAQs on Candidate Sourcing
What is strategic recruiting?
Strategic Recruiting is the use of skilled selling, employer branding and recruitment directed marketing in sourcing talent, which allows a company to respond effectively to dynamic market conditions.
What is the recruitment strategy in HRM?
A recruitment strategy is a clear-cut hiring plan that defines the roles your company plans to recruit for, when and where those job opportunities will be posted, and the evaluation strategies through which you'll identify top candidates.
Why is recruitment strategy important?
A strong recruitment strategy results in sourcing candidates with the right education, skills and experiences that your business and that specific role require – meaning you will see an increased success rate of hiring.
What are the 6 sourcing strategies?
1. Spend analysis
2. Supplier market share analysis
3. Supplier-spend share analysis
4. Procurement organization's demand
5. Category risk analysis
6. Vendor qualification
What are the best sourcing strategies to attract candidates?
1. Align with your hiring managers
2. Sourcing candidates from your ATS
3. Diversify candidate sourcing channels
4. Include offline recruitment methods
5. Utilize your employees' networks for sourcing candidates
6. Source candidates for roles you don't have open yet
What sourcing technique is the most effective to attract passive candidates?
The most effective way to convince a passive candidate is by showing what they are missing by not working at your company. Find out what the company they're working for lacks in terms of culture, benefits, or growth opportunities – then use that as your selling point.
What is the difference between sourcing and recruiting?
The major difference between sourcing and recruiting is in the approach. While sourcing refers to a proactive search for qualified candidates, including active and passive candidates, recruiting refers to the reactive process of review and pre-screening of interested applicants.