Irrespective of the size of an organization, all businesses need processes. It helps in streamlining a business to make it effective. Though almost everything can be done manually, there is a limit to which one can expect perfection. This is where machine intervention comes into play. 
To ensure the smooth functioning of a business and its processes, ERP or Enterprise Resource Planning becomes an essential part of a business. If you are a small business, the right ERP solution can help you streamline your operations, increase productivity and reduce costs. However, finding the right one can be overwhelming if you don't know where to start. 
Here's a look at some of the best options for small businesses looking for an ERP solution that fits their needs perfectly.
How Best ERP for Small Businesses Are Compared
To choose a good ERP software for a small business, you will need to consider cost, integration, learning curve, and customization.
#1 Cost
The first thing to consider when selecting an ERP system is the cost. Many small businesses don't have a big budget for software, so they need something affordable. The best ERP software for small businesses should be easy on your wallet but still packed with the needed features.
#2 Integration
When looking for an ERP system, it's important to consider how well the software integrates with your existing infrastructure. This includes things like legacy systems, databases, and even mobile devices. 
You want a system that meets all your needs across all platforms; otherwise, you'll be stuck manually entering data into multiple programs, which can be time-consuming and inefficient.
#3 Learning Curve
Most ERP systems have a steep learning curve. This means that it will take some time for your staff to get used to the new software and how it works. It's not uncommon for companies to hire an outside consultant in addition to their IT department to help with this process. 
However, you want to ensure that your system is easy to use and can be learned quickly by your employees. This will save time on coaching and allow everyone to become comfortable working with it right away.
#4 Customization
ERP systems are often customized to fit the needs of your business. This means that you'll want to look for a company that has experience with customizations and can help you create the perfect system for your company. You'll also want to make sure that any customization is included in the price of the software, so there aren't hidden fees later on down the line.
Key Features to Look For In ERP Software for Small Business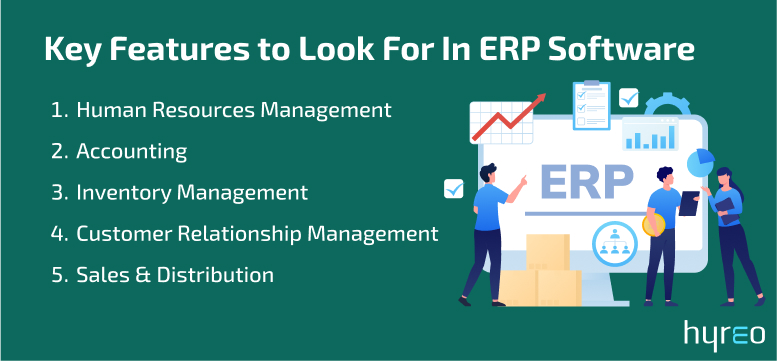 #1 Human Resources Management
HR software is a must for any business that deals with employees. The best ERP software for small businesses will come with a complete HR solution that allows you to manage employees, benefits and compensation, training records, and more.
#2 Accounting
Accounting is another important feature of an ERP system for small businesses. With it, you can manage your financials like receivables, payables, and more through integrated modules such as invoicing/billing or inventory management.
#3 Inventory Management
Inventory management is another crucial function when it comes to managing your supply chain efficiently, as you get real-time updates on what's available at any given time. This ensures there are no overstock issues which could lead to costs later down the line if not handled properly.  
#4 Customer Relationship Management (CRM)
A CRM module in your ERP system will allow you to better manage your customers and their needs and create new leads that could turn into sales.
#5 Sales & Distribution
This module allows you to manage your sales and distribution processes. It helps you manage your sales and distribution processes by allowing you to get access to reports and track the status of your business.
7 Best ERP Software for Small Business
#1 Microsoft Dynamics 365 Business Central
Microsoft Dynamics 365 Business Central is a cloud-based ERP solution that includes CRM and financial management. It is available in three editions: Business Central, Business Central Plus, and Business Central for Industry.
Features:
Supports sales, purchasing, and financial processes
Includes mobile apps for salespeople, managers, and executives 
Includes the ability to integrate with other business systems 
Provides a centralized view of all your data -Offers time and labor management tools
Supports customizing dashboards, reports, and workflow rules.
| | |
| --- | --- |
| Pros | Cons |
| Easily configure the solution to meet your business objectives | The app is only available on Windows devices |
| Allows you to manage your business from anywhere in the world | The Standard edition has a limit of 10,000 records per database |
| Offers more flexible licensing options, advanced analytics tool sets, and enterprise-grade security |   |
| Provides real-time dashboards and analytical tools  |   |
Pricing: Starting at $40 per employee per month
#2 Oracle NetSuite ERP
Oracle NetSuite ERP is an industry-specific ERP that is designed to help you manage your business processes efficiently. The software has been around for many years and has grown into one of the leading providers of enterprise resource planning (ERP) solutions for SMBs across industries such as retail and manufacturing.
Features of Oracle NetSuite ERP:
Cloud-based, which means you can access it from anywhere.
Comprehensive suite of business applications that covers accounting, sales, inventory management, and more.
Supports multiple languages and currencies
Provides you with real-time data across your entire business 
Includes all the essential functions for managing a small business 
| | |
| --- | --- |
| Pros | Cons |
| Comes with modern user interfaces | Can be costly if you need a large number of licenses |
| Easy to use and easy to implement | You must pay for additional modules, such as inventory management and accounting. |
| Comes with 24/7 support |   |
| Customizable to meet your company objectives |   |
Pricing: Starting at $99 per user per month
#3 SAP Business One
SAP Business One is a cloud-based ERP solution that offers a wide range of features to help you manage your business operations. SAP Business. It also lets you connect with your partners in real-time through an integrated network that allows for better collaboration across industries or businesses. 
Features of SAP Business One Software:
Supply chain management capabilities
Business Intelligence that helps you make better decisions 
Integration tools with other business apps 
Financial and accounting management capabilities 
Real-time data and reporting 
Cloud-based software
| | |
| --- | --- |
| Pros | Cons |
| Easy-to-use and highly intuitive user interface | The software is only available in English, so if you're using it in another language, some features may not be as useful or easy to use |
| Collaboration tools that allow you to work efficiently  |   |
| Mobile access to your data and applications  |   |
| Powerful functionality |   |
Pricing: $410 per employee annually
#4 Sage ERP
Sage ERP is a cloud-based business management solution that helps you run your business. It's a complete accounting solution for small businesses, and it also offers financial management tools to help you manage cash flow, taxes, payments, and more.
Sage's software is designed to work with any type of industry or company size—from start-ups to large corporations.
Features of Sage ERP:
Quickbooks integration
Credit card processing
Inventory management and order processing features
Project management tools, including task assignment and time-tracking capabilities
Business management software tools for small businesses
Financial management tools to help you manage cash flow, taxes, payments, and more
| | |
| --- | --- |
| Pros | Cons |
| Customized dashboards and reporting tools | The software requires an upfront investment as well as ongoing maintenance fees if you want access to technical support and updates. |
| Complete accounting solution for small and midsize businesses |   |
| Pricing according to your requirements |   |
| Ideal for companies of all sizes |   |
Pricing: Available on request/customized pricing
#5 SYSPRO ERP
SYSPRO ERP is a comprehensive and integrated solution for small to medium-sized businesses. It provides an easy way to manage the entire business process, from sales to finance and accounting, from inventory to customer service, from project management to manufacturing.
Features of SYSPRO ERP:
Cloud-based SaaS software
Complete business management solution for small and medium-sized enterprises (SMEs)
Unlimited users, unlimited data, and unlimited transactions
The software comes with a variety of modules
It is a complete business solution 
It provides you with real-time information about your business.
| | |
| --- | --- |
| Pros | Cons |
| You can easily manage sales and customer service through the software | It requires coaching sessions before you can use it efficiently. |
| Can be customized according to your needs  | Slightly more expensive compared to other ERP software |
| Helps you make decisions based on accurate data |   |
| All-in-one solution for your organization |   |
Pricing: $199 per employee per month
#6 Epicor ERP
Epicor ERP is a business management system that helps companies manage their operations, from manufacturing to service delivery. Epicor ERP is a cloud-based software that is customizable to your needs. It uses industry-standard technology and can be integrated with other systems such as SAP and Oracle.
Features of Epicor ERP:
Provides real-time data, so you can make decisions quickly and efficiently 
It can manage multiple sites and locations
It is designed to be flexible, so you can change the way it works to meet your needs.
Manage your entire business, including manufacturing and service operations.
Create custom reports to track performance against company goals.
Easily manage customer orders, inventory and shipping.
Connects your business systems and functions together
| | |
| --- | --- |
| Pros | Cons |
| Allows for easy reporting and analysis of sales trends | Can be a little pricey for small businesses  |
| Provides real-time inventory management | Not available on iOS |
| Supports manufacturing, distribution, and service industries |   |
| Easy to use, easy to customize |   |
Pricing: Available on request
#7 LOGIC ERP
LOGIC ERP is one of the top ERP software solutions for small businesses. It's a cloud-based business intelligence tool that helps you manage your entire business with just a few clicks. You can create dynamic reports, track inventory and sales data, automate processes in minutes, integrate with other platforms like CRM or accounting systems—the list goes on!
Features of LOGIC ERP:
Manage inventory and sales data in real-time. 
Built-in templates for different business scenarios (sales, accounting, inventory management)
Track sales data and inventory levels in real-time
Integrates with your existing CRM system or accounting software 
A robust and comprehensive set of features for managing your business
| | |
| --- | --- |
| Pros | Cons |
| A wide array of integrations with other platforms | Some users have reported bugs, but the company is quick to fix them  |
| Offers a free demo before purchase | The system isn't ideal for companies with more than 200 employees |
| Easy-to-use, intuitive interface | Not all modules are available for free |
| Built-in templates for quick setup |   |
Pricing: Available on request
Wrap Up
It is important to note that not all ERP systems are suitable for every company. If you are looking for an affordable, enterprise-grade solution that can handle your business needs and growth, look no further than the 7 best ERP software options on this list.
FAQs on ERP Software for Small Business 
How is PLM different from ERP?
PLM, or product lifecycle management software, is a subset of ERP that focuses on product design and development. It's not about the business process (as in ERP) but how products are created and developed.
ERP is a broader term than PLM because it encompasses more than just manufacturing processes; it includes financial planning, accounting, and functional areas such as purchasing and shipping.
What are the 3 common types of ERP?
There are three common types of ERP software:
Cloud ERP – The cloud ERP solution is hosted in the cloud, so you don't need to worry about managing servers or maintenance. It's also easy to use and cost-effective, but it has its drawbacks—the biggest being that you don't have access to your data when you're not on the internet.
On-Premise ERCP – In this type of solution, your business will run on a server at home or another remote location that connects directly to your computer via an internet connection (no phone line needed).
Hybrid ERP – This is a combination of both on-premise and cloud ERP systems. You have access to your data via an internet connection, but you also have some backup servers in case of internet service problems.
What are the benefits of cloud ERP?
There is no need for additional hardware costs; you only need an internet connection. It's easy to use as no complex procedures or manuals are required to install, set up, and maintain the system. You can access any part of your company's data anytime, anywhere, through your browser (PC/Laptop).