Different jobs require different skills and talent. This means that some job positions are easier to fill because of the job requirements for those particular positions. However, some job titles require specific talent and skills and that can make it hard for talent acquisition teams to find the right candidate for the job. Hence, talent acquisition teams and professionals have to look for metrics that allow them to track and measure their performance.
What is the Time to Fill?
While there are different metrics and analytics that HR teams can use to evaluate their individual and team hiring process, time to fill in a key KPI is used by HR and talent acquisition teams the world over.
In simple terms, time to fill is a way to measure the number of days it takes for an HR team to fill an open job position in the company. This initiates from the date a job requisition is posted to the date when a new hire accepts the position. To find the average time to fill the HR team can take the average number of days and divide them by the total number of new hires or positions filled. 
Why Is It Important to Measure Time to Fill?
In a candidate-driven job market, HR teams have to be on their toes to ensure that they attract, assess, and acquire the right talent. However, they also have to focus on their efficiency and performance.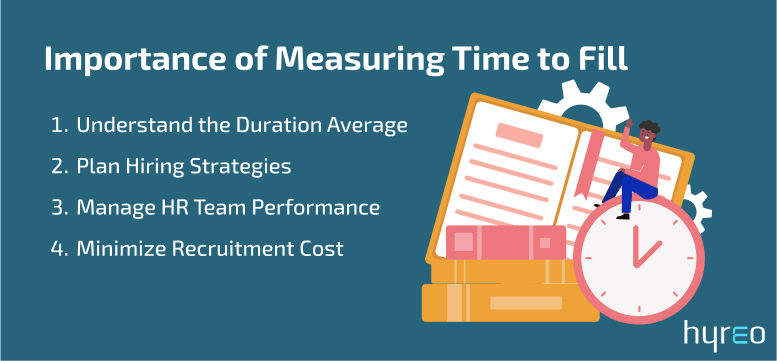 With the time to fill data, HR teams can find out more about how they have been performing and how quickly they can fill up empty job positions. 
#1 Understand the Duration Average
With the help of time to fill, HR teams can find out the duration average to fill in the vacant positions in the company. 
#2 Plan Hiring Strategies
Knowing the average duration to fill up the vacant positions or new job titles in the company can help HR teams to plan their hiring strategies. 
#3 Manage HR Team Performance
With metric information like time to fill, HR teams can know their performances and come up with initiatives to improve the hiring process and provide necessary training to hiring managers to improve the average time to fill. 
#4 Minimize Recruitment Cost
Keeping your time to fill time short can also help you to cut down the recruitment cost.
How to Calculate Time to Fill?
To calculate the right time to fill the average you need to find the total number of calendar days starting from the date of the job requisition posted for the position to the date when a new candidate accepts the vacant position. Divide the average number of days by the total number of new hires or positions filled.
How to Reduce Time to Fill? 
With the clock ticking, hiring managers and HR teams have to come up with better ways to find, evaluate and hire the right talent within the shorter time frame the company demands. Hence, many HR teams and professionals today focus on how they can reduce time to fill to help them get the best results without compromising on the quality of candidates they choose. 
Here are 10 tips on how you can reduce time to fill effectively. 
#1 Have Clear Communication Internally
When you are hiring candidates for a specific department you must have clarity about the skills and talent the department needs. You can communicate with the department head or manager to know more about the demands and needs to help you create the right job posting information.
#2 Write Clear and Effective Job Postings
One of the ways to reduce time to fill effectively is to write job postings that are clear and precise. This would attract the right candidates to the jobs and ensure that you can speed up the overall hiring process. 
#3 Use Relevant Software to Post Jobs Online
One of the best ways to speed up the overall time-to-fill process is that you use relevant programs and software that can allow you to fill up all the details online and post job openings for your company. Similarly, you can also use programs and software that can simultaneously post the same information on different social media accounts. 
#4 Use AI for Resume Screening
Going through multiple resume information can take days and weeks. Hence, you need to have the right AI technology that would screen the resumes and help you sort the ones that fit the requirement. This can allow you to be more productive and focus on other priorities than just sorting all the resumes that come in. 
#5 Rediscover Previous Candidates
A lot of time HR teams never pay attention to the previous candidates that didn't clear the rounds for a specific job position. However, you can always rediscover some of the candidates from the previous batch and find out if those candidates can be a good match for the new vacant job position. 
#6 Use AI for Candidate Outreach
Instead of typing in all the emails, you can make use of software that allows you to send in auto-email and auto-text. Also, the system would track which candidates opened the email to help you follow up with those best-fit candidates. 
#7 Speed Up Hiring Manager Review Process
Hiring managers often take more time to review qualified candidates because they don't have enough data available. However, with the right AI, you can provide your hiring managers with the right details to help speed up the review process. 
#8 Automate Interview Scheduling
With the right technology and AI you can also focus on automated interview scheduling that would reduce the time to fill the process. 
#9 Conduct Online Interviews
Over the years, online interviews have become popular and therefore you can conduct interviews in real-time to speed up the time to fill process. 
#10 Use e-signature for Job Contracts
Instead of sending the contract papers by mail, you can make use of e-signature to allow passive candidates to sign the contract and that can in a way speed up the time to fill the process. 
What is a Good Industry Benchmark for Time to Hire?
Apart from time to fill, HR teams and hiring managers also have to look out for popular metrics like time to hire. Time to hire is a metric measurement that describes the amount of time from when the HR team or a hiring manager initially contacts a job candidate and when he or she accepts the job offer.
While different job positions take different times to hire, a good industry benchmark for time to hire is somewhere around 20 to 30 days. 
Time to Hire vs. Time to Fill
Most HR teams make use of critical metrics that provide them with essential insights into how they can optimize their recruitment process and acquire the best talent. Both time to hire and time to fill are basic recruiting metrics used by HR. While they both sound similar, they are not the same. 
Time to Fill is more about the entire process. It begins from the date when the hiring manager submits the official job request to HR. On the other hand, Time to Hire begins when the official job posting advertisement is posted to initiate the hiring process.
While the difference is small, it does make a difference. While time to fill indicates how fast your hiring process is, the time to hire tells you how quickly you and your team were able to assess and acquire the best talent. 
Conclusion
Using critical metrics to mark your performance is important because it allows you to know where you stand and how you can improve your hiring and recruitment process. With time to hire and time to fill metrics, you can focus on how you can make better hiring and recruitment strategies, improve your hiring process and bring consistency to the hiring process.
FAQs on Time To Fill 
Is recruitment analytics important to your growth as an HR professional?
Yes. It can provide you with the right performance indexes that you need to know about how you can make your hiring process better. 
Is it important to assess your current recruitment funnel?
When you know your recruitment funnel you can understand the candidate's journey through the hiring process and make it better, more efficient, and quick while hiring the best talent. 
Can these metrics help you cut the company's hiring cost?
Knowing the time to fill and time to hire metrics and using the data to reduce the hiring process can help you minimize the recruitment cost to the company.
Do you have to evaluate these metrics manually?
Today, you can find many HR analytics software that can do these calculations for you allowing you to know your time to hire and time to fill average. 
Can a reduction in the time-to-hire and time-to-fill improve candidate experience?
Yes. With a faster and more efficient hiring process, hiring managers and HR teams can improve candidate experience and acquire the best talent.